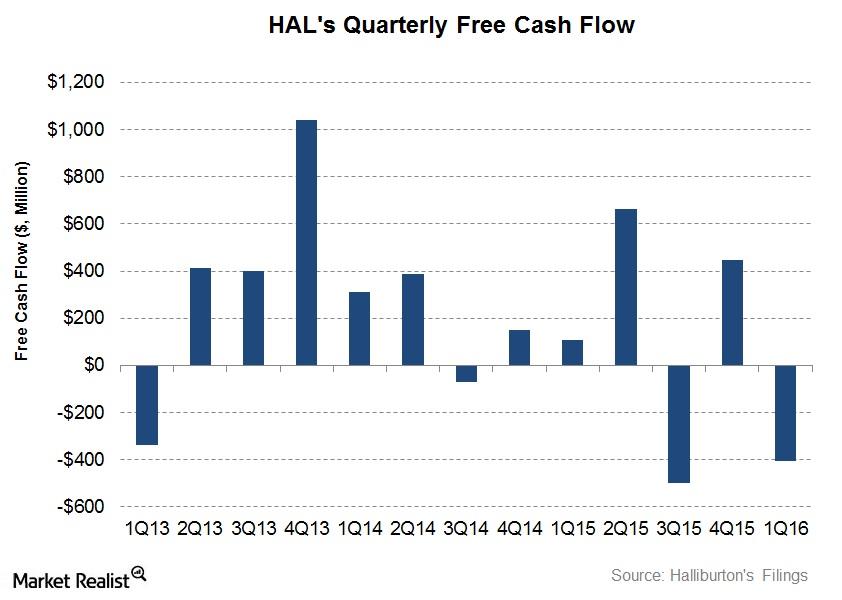 Analyzing Halliburton's Free Cash Flow
Halliburton's operating cash flows and capital expenditures
In this article, we'll analyze how Halliburton's (HAL) operating cash flows have trended over the past few quarters. We'll also discuss how its free cash flows (or FCF) were affected given its capital expenditures (capex).
Halliburton's cash from operating activities (or CFO) turned negative in 1Q16 compared to $812 million in 1Q15. HAL generated -$171 million in CFO in 1Q16. HAL's lower CFO was driven by cash payments for severance costs and Baker Hughes acquisition–related costs.
Article continues below advertisement
Halliburton's free cash flow
HAL's capex fell 67% in the year leading up to 1Q16. Lower capex, however, couldn't offset the company's CFO shrinkage, and its FCF turned negative in 1Q16. In 1Q16, HAL's FCF was -$405 million, compared to ~$108 million in FCF a year ago.
The latest quarter's FCF also deteriorated compared to HAL's 4Q15 FCF of $449 million. Halliburton's FCF has been positive in nine out of the past 12 quarters.
In comparison, CARBO Ceramics' (CRR) FCF turned negative in 1Q16 over 1Q15. CARBO Ceramics is Halliburton's lower market capitalization peer. It generated -$14.4 million in FCF in 1Q16.
Halliburton makes up 2.3% of the iShares North American Natural Resources ETF (IGE).
Halliburton's capex plans for 2016
In 2016, HAL plans to spend $850 million in capex, 61% lower than in 2015. In 2016, the majority of HAL's capex is expected to be spent on its Production Enhancement, Production Solutions, Cementing (under the Completion and Production segment), and Wireline and Perforating (under the Drilling and Evaluation segment) product service lines.
Next, let's discuss Halliburton's dividends and dividend yields.