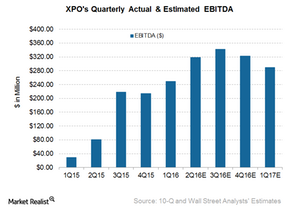 16% Organic EBITDA Growth to Keep XPO Logistics' 2016 Plans Intact
By Samuel Prince

May. 19 2016, Updated 12:05 p.m. ET
XPO's EBITDA in 1Q16
Previously, we went through XPO Logistics' (XPO) logistics segment. Now, we'll go through the company's EBITDA (earnings before interest, tax, depreciation, and amortization) levels in 1Q16. XPO generated an adjusted EBITDA of $249.3 million in 1Q16 compared with $29.2 million on a year-over-year basis. Acquisitions in 2015 fueled the EBITDA rise. You should note that on an organic basis, the company reported an increase of 16% in 1Q16 EBITDA.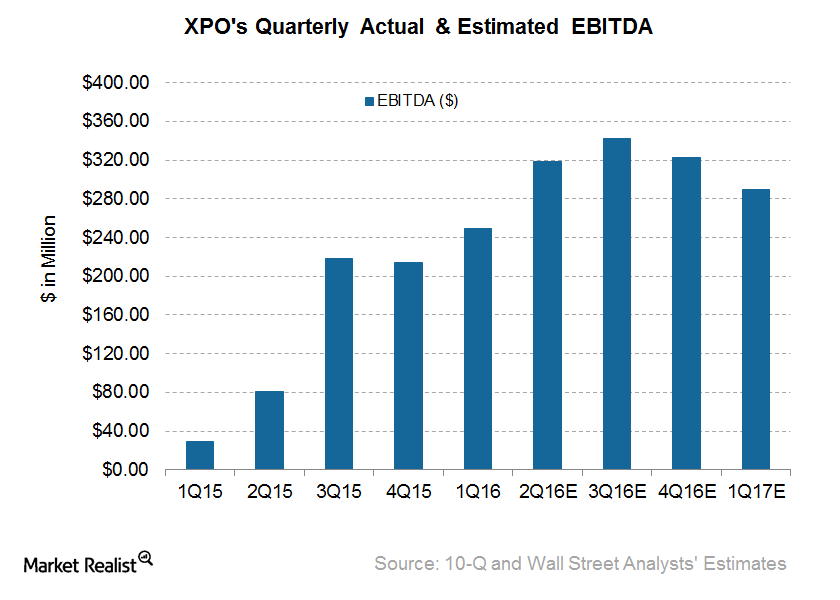 Article continues below advertisement
On a sequential basis, EBITDA grew by 16.4%. The transportation segment's EBITDA grew by 741% on account of acquisitions and organic growth. The logistics segment grew from $26.1 million in 1Q15 to $88.0 million in 1Q16. This rise of 337% was attributed to acquisitions in the last year and strong European operations. The 16% rise in overall EBITDA is attributed to XPO's European operations.
The 1Q16 adjusted EBITDA was impacted by incentive bonuses usually paid in the first quarter plus higher legal expenses. $50.0 million in severance resulting from the integration of acquired business impacted the 1Q16 adjusted EBITDA. However, adjusted EBITDA in 1Q16 excludes $27.1 million of one-time transaction-related costs.
According to XPO, the first quarter EBITDA is around 20% of the full year. The company achieved a $105.0 million to $110.0 million EBITDA in the full truckload business line. 35% of XPO's truckload business is tied to Mexico, which is marked by higher margin and longer haul character.
Management outlook
The company expects 2Q16 and 3Q16 EBITDA to be around 26% and 28%, respectively, of the complete 2016 EBITDA levels. XPO intends to take the truckload EBITDA from $110.0 million to $140.0 million. It reiterated its full-year 2016 target of $1.3 billion in adjusted EBITDA and $1.8 billion in adjusted EBITDA in 2018.
Peer group EBITDA growth
As stated earlier, XPO was able to grow its adjusted EBITDA by 16% on a sequential basis. In an environment where margins are under pressure due to severe competition and pricing caps, let's take a look at its peers' adjusted EBITDA growth in 1Q16 compared with 4Q15:
Investors can invest in the Guggenheim S&P 500 Equal Weight ETF (RSP), which is a growth ETF. Prominent companies in diverse industries are part of RSP. The major transportation stocks in RSP include Norfolk Southern (NSC) and CSX (CSX).
In the last part of the series, we'll look at XPO through analyst lenses.