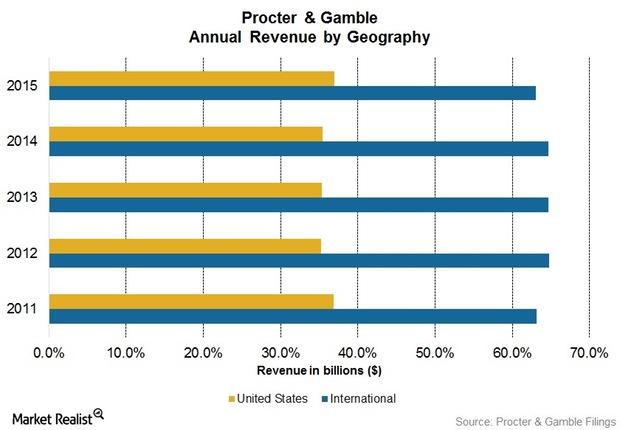 Will Negative Foreign Exchange Affect Procter & Gamble in 3Q16?
By Penny Morgan

Apr. 19 2016, Updated 9:07 a.m. ET
Stronger dollar against other currencies
Procter & Gamble (or P&G) (PG) is geographically diverse and derives ~63% of its revenue outside the United States. This is one of the main reasons the company faces a significant impact of negative foreign currencies. P&G's fiscal 2Q16 revenue included a -8.0% impact from foreign exchange.
Estée Lauder (EL) and Colgate-Palmolive (CL) derive ~63.2% and ~77%, respectively, of their revenues from outside the United States. P&G has leading positions in some of the toughest markets in the world compared to Kimberly-Clark (KMB) and Unilever (UL).
Economic and political instability have impacted incomes and consumptions in important markets such as Russia, Argentina, Mexico, Brazil, Venezuela, and Nigeria.
Article continues below advertisement
Since the start of December 2015, FX (foreign exchange) headwinds have increased $0.3 billion after tax. That includes a 40% devaluation in Argentina, an additional 15% devaluation in Russia, and a nearly 10% devaluation in Mexico. P&G is planning to focus on big opportunities by transforming its portfolio and strengthening innovation plans.
Transactional cost impacts
Net revenue for all P&G segments declined in 2Q16 due to foreign exchange headwinds. However, organic sales increased 3% each for its Grooming and Health Care segments.
With the devaluation of the peso, P&G and other multinational players face transaction cost impacts. P&G is planning to focus on meaningful product and packing improvements in hair care for both Head & Shoulders and Pantene.
New regime innovation
The company is focusing on worldwide regime innovations in Fabric Care, which could help its fiscal 3Q16 results. For example, in North America, P&G will introduce an innovation in Tide and Downy that will address the odor problems common to athletic wear. The company also plans to launch better performing, more profitable new compact liquid detergents in Russia, Turkey, Mexico, Brazil, and China.
P&G makes up 5.5% of the First Trust Morningstar Dividend Leaders ETF (FDL).[1. updated April 16, 2016]