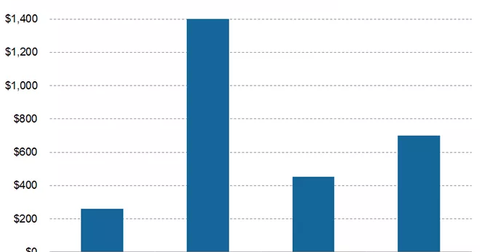 How Will the Acquisition of Jasper Technologies Benefit Cisco?
By Adam Rogers

Updated
Jasper provides a leading cloud-based IoT service platform
Cisco (CSCO) recently completed its acquisition of Jasper Technologies, an industry leader in providing cloud-based IoT (Internet of Things) service platforms. Jasper has helped a number of companies to introduce their products to the market. It has also helped these companies to manage and monetize these products as services on a global scale.
The total acquisition deal is valued at $1.4 billion in cash and assumed equity awards, plus retention.
Article continues below advertisement
Cisco: A market leader in the IoT space
Cisco has been helping a number of companies to digitize. It's one of the market leaders in the IoT space. This acquisition will help Cisco and Jasper to provide a comprehensive IoT service platform that will enable enterprises to build IoT service businesses such as "usage-based insurance for connected cars, predictive maintenance for industrial manufacturing, and asset tracking for commercial fleet management," according to Cisco.
Cisco will also look to add new services including IoT security, support for additional connectivity options such as enterprise Wi-Fi and LPWAN (Low-power wide-area network), and analytics solutions. With this acquisition, Cisco can help companies to automate the management of IoT services across connected devices. This will help enterprises to transform their products into connected services that will create new business models and generate new sources of revenue.
Cisco's press release states, "Together, Cisco and Jasper will make it easier for companies to enter the IoT market, accelerate growth, and enable service providers to help their enterprise customers transform to IoT businesses in the next decade."
Other acquisitions by Cisco
Last year, Cisco announced its acquisition of Acano for $700 million. Acano provides collaboration, infrastructure, and conferencing software. Cisco also acquired Piston Cloud, a company that provides OpenStack private cloud distribution.
In November 2015, Cisco and Europe's (EFA) Ericsson (ERIC) announced a strategic partnership wherein both companies could realize synergies of $1 billion by 2018.
In fiscal 2015, Cisco announced acquisitions of Lancope, OpenDNS, Portcullis, and ParStream to boost its position in the data analytics and video spaces. Cisco also acquired Clearleap, a video services company. Clearleap's technology has been put to use by Time Warner's (TWX) HBO, Sony Movie Channel, BBC America, Verizon (VZ), and Time Warner Cable (TWC).