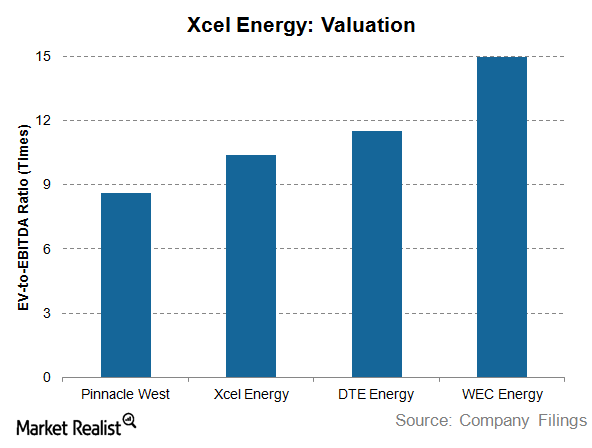 Utilities Are Trading at a Premium: Is a Correction Possible?
By Vineet Kulkarni

Dec. 4 2020, Updated 10:52 a.m. ET
Valuation
Xcel Energy (XEL) is trading at an EV-to-EBITDA (enterprise value to earnings before interest, tax, depreciation, and amortization) multiple of 10.5x as of March 31, 2016.
Xcel's five-year historical average EV-to-EBITDA multiple is 9.5x. This indicates that it's trading at a premium to its average EV-to-EBITDA valuation. EV-to-EBITDA ratio indicates whether the stock is undervalued or overvalued, irrespective of its capital structure. EV is the combination of a company's debt and market capitalization minus its cash holdings.
The utility sector's average EV-to-EBITDA ratio is 10.6x. CMS Energy's (CMS) ratio is 11x, and SCANA's (SCG) is 11x.
Forward EV-to-EBITDA is the ratio that considers current EV and estimates of EBITDA for the next 12 months. Xcel's forward EV-to-EBITDA ratio stands at 9.7x. A lower multiple than the current one indicates expectations of higher EBITDA for 2016.
Article continues below advertisement
Market performance
Xcel Energy (XEL), a $21 billion utility, hit an all-time high on March 31, 2016, and closed at $41.82. It has outperformed utilities by a huge margin, rising ~20% so far this year. XLU has risen nearly 12%. Other Midwest utilities, including DTE Energy and Wisconsin Energy (WEC), have rallied 14% since the beginning of the year. Utilities have also surpassed flattish US equities (SPY) by 13 percentage points so far in 2016.
Broadly speaking, US mid-cap utilities have risen more than large-cap utilities (FXU) in the last three months. The rally in utilities this year was triggered by fourth quarter earnings and the FOMC's (Federal Open Market Committee) no-rate-change decision. The upcoming positive cue in order for utilities to rally further could be first quarter earnings. However, higher interest rates could again force utilities to fall off the cliff.
In the final part of our series, we'll look at Xcel Energy's challenges, guidance, and price targets.