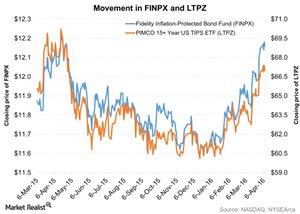 Why TIPS Are an Attractive Investment Option Right Now
Asset managers issue inflation warning
BlackRock (BLK) and Pacific Investment Management Company (or PIMCO) have warned that costs may rise. Therefore, they recommend inflation-linked securities such as Treasury inflation-protected securities (or TIPS).
Recently, Morgan Stanley (MS) also warned that inflation could rise. It has recommended TIPS as an attractive investment option. Funds such as the Fidelity Inflation-Protected Bond Fund (FINPX), the PIMCO 15+ Year US TIPS ETF (LTPZ), and the Vanguard Short-Term Inflation-Protected Securities ETF (VTIP) provide exposure to TIPS.
BlackRock's global chief investment strategist Richard Turnill wrote on the company's website, "Stabilising oil prices and a tighter labor market could contribute to rising actual, and expected, US inflation."
PIMCO and Morgan Stanley also think that the economy will grow and inflation will rise.
Article continues below advertisement
Article continues below advertisement
In an interview with Bloomberg Television, PIMCO's global economic adviser Joachim Fels said, "We still think markets are pricing in too low a profile for inflation. We don't think inflation will move significantly above central bank's targets, but we think that there's a good chance that over the next 12 months or so, particularly in the US, that we will get back to 2%."
Policymakers' views on inflation
Boston's Federal Reserve president Eric Rosengren, a voting member of the FOMC (Federal Open Market Committee), said, "I personally expect that a stronger economy, at essentially full employment and with gradually rising inflation, will lead to more tightening."
Fed vice chair Stanley Fischer and St. Louis Federal Reserve president James Bullard also believe that costs are rising, which will enable the central bank to move closer to raising interest rates.
Article continues below advertisement
Federal Reserve of San Francisco president John Williams and Federal Reserve of Atlanta president Dennis Lockhart said that with the improvement in the job market, inflation would soon hit the central bank's target, which would make a strong case for a rate hike. Some officials also believe that inflation could temporarily overshoot 2%, as oil's price has started to rebound from its low.
Fed's dovish stance
Federal Reserve chair Janet Yellen clearly cited in her latest speech to the Economic Club of New York that the Fed is not in a hurry to normalize the interest rate due to falling oil prices and turbulence in the global economy, particularly in China.
Yellen agreed that core inflation has increased, but she stressed that it was too early to tell whether this recent faster pace would persist. Crude oil's price fall has impacted energy companies around the world such as Royal Dutch Shell (RDS.B), BP (BP), and Statoil (STO).
In the next article, we'll look at the Fed's preferred personal consumption expenditure inflation and break-even inflation.