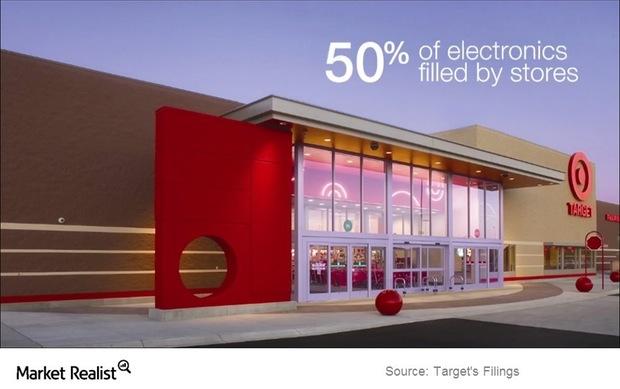 Target's Strengths and Weaknesses Are Balanced
By Phalguni Soni

Nov. 22 2019, Updated 6:17 a.m. ET
Low volatility stock
Target's (TGT) business model has been tested over several economic cycles. While it experienced falls in its net income during the recession in 2008–2009, dividend aristocrat (SDY) (NOBL) Target still managed to raise its dividend per share.
Target forms part of the portfolio holdings of the iShares MSCI USA Minimum Volatility ETF (USMV), with a weight of 0.62%. You'll find a more detailed discussion of Target's dividend policies in Part 16 of this series.
Article continues below advertisement
Brand strength
Target is one of the largest and oldest discount retailers to operate in the United States. As such, the company has a large store footprint and enjoys considerable brand recognition. The company's portfolio of owned and exclusive brands is also a key strength, allowing the retailer a valuable differentiating lever in a highly competitive retail environment.
Discount programs
Target's marketing programs such as REDCard and Cartwheel are also key strengths and opportunities for the company. REDCard is rising in penetration. It offers cardholders a 5% discount on almost all purchases made using the card.
Article continues below advertisement
Omni-channel model
Target's omni-channel model is another of its key strengths. Around three-quarters of Target's customers begin their item searches on mobile devices. The online assortment available on Target's websites offers more options to customers, some of which aren't stocked in all stores.
The company's store network allows for greater fulfillment options, including delivery and store pickup. The latter option can also drive higher traffic at brick-and-mortar stores, spurring sales.
Vulnerability to economy-specific risks
Target's products mostly fall under the consumer discretionary (XLY) category. As a result, the company's results are vulnerable to macroeconomic factors such as GDP (gross domestic product) growth rate, employment and income, and consumer spending trends.
Target's operations are limited to the US market. This makes the company's financial performance more vulnerable to economic cycles in the United States.
Some of Target's competitors are also subject to the same risks. These include Macy's (M), Nordstrom (JWN), and Kohl's (KSS).