How the REDCard and Cartwheel Programs Affect Target's Sales
Target (TGT) has several marketing programs designed to attract higher store (XRT) (RTH) traffic and higher customer loyalty.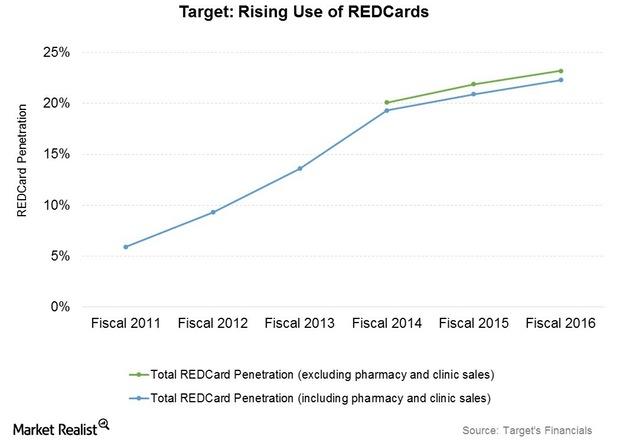 Loyalty programs
Target (TGT) has several marketing programs designed to attract higher store (XRT) (RTH) traffic and higher customer loyalty. Programs such as REDCard and Cartwheel aim to provide customers with discounts on purchases.
Target's co-branded credit cards and proprietary debit cards are collectively termed REDCards. Customers get a 5% discount on almost all purchases made on Target REDCards. Purchases are also eligible for free shipping on Target's website when payment is made using REDCards.
More importantly for Target, card penetration is rising. Excluding pharmacy and clinic sales (XLY), REDCard penetration rose to 23.5% in fiscal 4Q16 from 21.9% in fiscal 4Q15. For fiscal 2016, REDCard penetration came in at 23.2%, up from 19.3% in fiscal 2014.
Article continues below advertisement
Article continues below advertisement
According to Target, around 75% of its customers begin shopping on mobile devices. The Cartwheel feature generates personalized discounts on deals for customers. Last fiscal year, the company reported ~$3 billion in sales from its loyalty program, up from about $1 billion in the previous year. Target also reported over 22 million downloads to date.
New loyalty program
Target also has a new loyalty program called REDperks on the anvil. Currently in pilot mode in North Carolina, the program is a non-tender reward points program. It's primarily looking to attract customers who aren't necessarily interested in applying for credit or debit cards.
According to Jeffrey J. Jones, executive vice president and chief marketing officer of Target, "We're really, really pleased with what we saw with REDperks. So what you'll see us do as we move into this year is to simplify and integrate those programs. And so the power of non-tender rewards points, the power of 5% savings every day, personalized discounts with Cartwheel in a simple single sign-on, one barcode checkout kind of program, all on the mobile device."
Walmart's (WMT) mobile app has a savings catcher feature, which aims to provide the lowest available prices on products to customers. The difference between Walmart's price and that offered by a competitor is returned to the customer via a gift card. According to Walmart, around 24 million people are using the app each month, and it's one of the top three apps among retailers.
Mass merchandiser Costco Wholesale (COST) employs a different loyalty card model. The retailer offers several membership cards to customers for a membership fee. In fact, customers need a membership card to be able to shop at Costco.