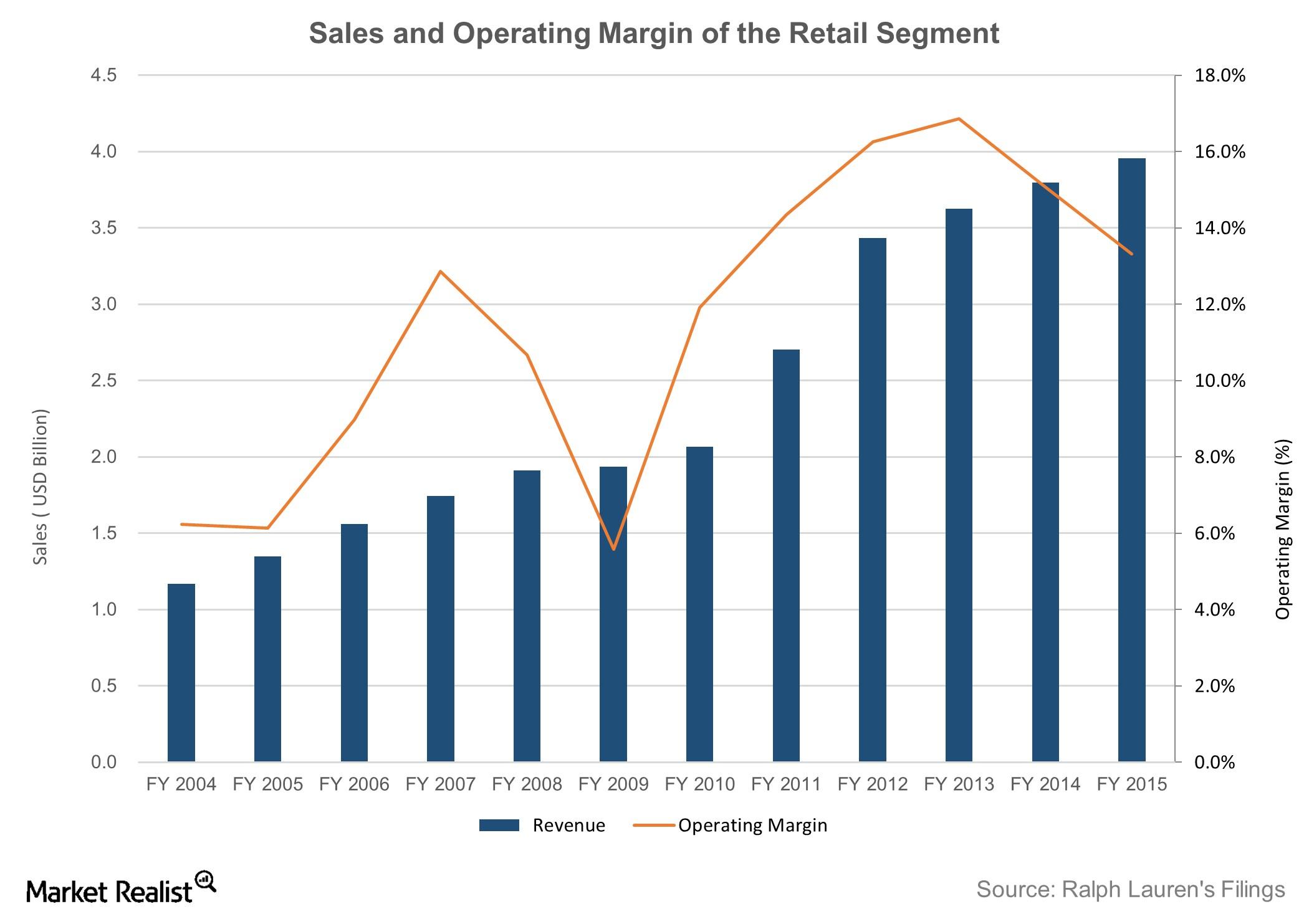 How Ralph Lauren's Retail Channel Became the Biggest Revenue Generator
Ralph Lauren's retail channel
Ralph Lauren (RL) carries out its retail business through company-operated stores, concession-based shops-within-shops, and e-commerce websites around the world. The company operated 143 Ralph Lauren stores, 64 Club Monaco stores, and 259 factory outlets at the end of fiscal 2015. The company also operated 536 concession-based shops-within-shops at 236 retail locations.
Article continues below advertisement
Shifting toward retail platforms
Historically, wholesale has been the dominant product distribution channel for luxury apparel companies. But recently, apparel players such as RL, VF Corporation (VFC), PVH Corporation (PVH), and Michael Kors (KORS), are increasing their focus on the retail side to better manage their brand images and earn stable gross margins. Most of these companies are also focusing on increasing their presence on the online platform. Ralph Lauren operates around ten websites in North America, Europe, and Asia.
Financial performance
RL's Retail segment represented ~52% of the company's net sales and 32.5% of its operating income in fiscal 2015. Retail displayed the highest sales growth within the company and grew at a CAGR of ~14% over the past five years to nearly $4 billion in fiscal 2015. Its operating margin declined from 16.2% in fiscal 2013 to 13.6% in fiscal 2015, however, primarily on account of elevated promotional activity and the unfavorable effect of foreign currency.
Increasing e-commerce sales
According to the National Retail Federation, US retail sales are likely to grow by 3.1% in 2016. E-commerce will likely continue to outpace total retail sales and is expected to grow by 6%–9% during the year. (Please note that the rate of sales growth excludes purchases of cars, gasoline, and restaurant food.)
ETF investors interested in exposure to Ralph Lauren can consider the First Trust Large Cap Core AlphaDEX Fund (FEX), which invests 0.42% of its portfolio in the company.
Continue to the next part for an analysis of RL's licensing business.