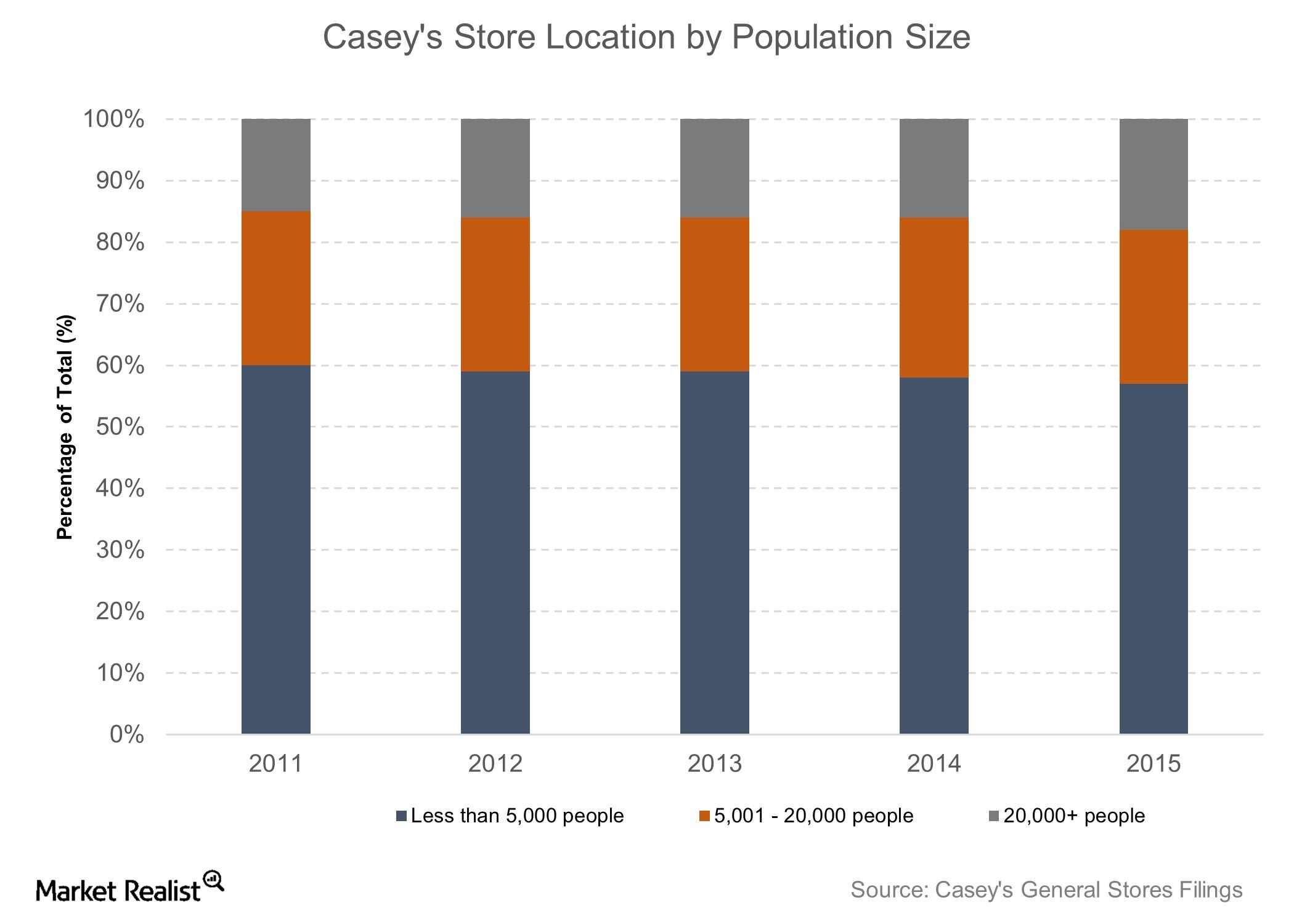 A Quick Look at Casey's Business Model
Casey's business model focuses on opening stores in smaller towns, where the population is lower and competition is minimal.
Business overview
Headquartered in Ankeny, Iowa, Casey's General Stores (CASY) operates convenience stores that sell fuel and a wide range of grocery items and prepared foods. CASY began its operations in 1968 and opened its first store in Boone, Iowa. Since then, the company has grown into a 1,900 store mammoth, with operations in 14 Midwestern states in the United States.
In the current section, we'll take a look at Casey's subsidiaries and its business model.
Article continues below advertisement
Article continues below advertisement
Business model
Casey's business model focuses on opening stores in smaller towns, where the population is lower and competition is minimal. About 57% of its stores are based out of locations that have populations of fewer than 5,000 people. 25% are located in areas with populations of between 5,000 and 20,000 people.
The company sells fuel, groceries, and prepared food under one roof and acts as a one-stop shop for local inhabitants. In many of Casey's locations, customers might not have any other convenience store options, and Casey's might be their only choice.
However, in bigger locations, Casey's might have to compete with other convenience stores such as CST Brands (CST), Murphy USA (MUSA), 7-Eleven, or even big grocers such as Kroger (KR) or Costco (COST).
Company structure
Casey's manages its business through the following subsidiaries:
Casey's Marketing Company owns and operates stores in Arkansas, Indiana, Iowa, Kentucky, Missouri, Oklahoma, Tennessee, and Wisconsin. It's also responsible for Casey's wholesale operations, including its distribution center.
Casey's Retail Company operates stores in Illinois, Kansas, Minnesota, Nebraska, North Dakota, and South Dakota. It holds the rights to the Casey's trademark and trade name.
Casey's Services Company provides a variety of construction and transportation services for all stores.
CGS Sales operates one store in Iowa and one in Nebraska.
Tobacco City operates one store in North Dakota.
Investors looking for exposure to Casey's can invest in the iShares Russell 2000 Growth ETF (IWO), which has around 0.53% of its holdings invested in the company.
Store ownership
Most Casey's stores are owned by the company directly. As of April 30, 2015, the company owned 98.9% of its land and 99.1% of its buildings.
Move on to the next section to read more about the company's stores and store locations.