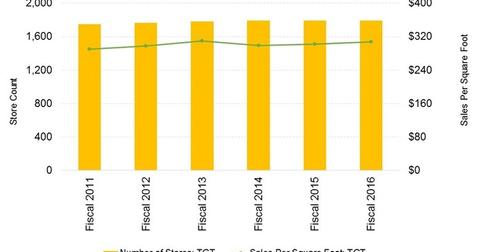 Porter's 5 Forces: Analyzing Target's Competitive Positioning
By Phalguni Soni

Updated
Porter's five forces analysis: Degree of industry concentration and ease of entry
Mass merchandiser Target (TGT) operates in a highly competitive retail environment. It's relatively easy to open a competing business like Target's, though it's harder to do it on the scale that the retailer presently enjoys.
Due to the wide variety of merchandise it has available, Target faces competition from other mass merchandisers such as Walmart (WMT) and Costco Wholesale (COST), grocery stores such as Kroger (KR) and Whole Foods Market (WFM), home improvement retailers such as Home Depot (HD), department stores such as Macy's (M) and Kohl's (KSS), internet retailers such as Amazon (AMZN), and other specialty retailers.
Target, Macy's, Kohl's, Amazon, and Home Depot together constitute ~20% of the portfolio holdings of the Consumer Discretionary Select Sector SPDR ETF (XLY).
Article continues below advertisement
Porter's five forces analysis: Bargaining power of buyers
Due to the tough competitive environment that Target faces, consumers have several choices at their disposal, both at brick-and-mortar stores and on the Web.
Products have a low degree of differentiation. Therefore, Target is forced to keep prices competitive in order to boost sales.
Porter's five forces analysis: Ease of substitution
Products such as groceries and electronics are largely undifferentiated among retailers. Customers can easily switch between companies without incurring significant switching costs.
Target has tried to inspire customer loyalty by focusing on its guest experience. The company is also known for offering products that are exclusively available at Target through its private-label brands.
Porter's five forces analysis: Bargaining power of suppliers
Target is one of the largest retailers in the United States. However, due to the wide variety of merchandise it has on sale, no single vendor accounts for over 5% of the company's sales.
Due to its size, however, Target may enjoy some leeway in negotiating favorable terms with suppliers, though its degree of bargaining power is likely lower than larger retailers such as Walmart.