ORION: A Star in United Parcel Service's Technology Crown
United Parcel Service, through 10,000 routes optimized with ORION, saves up to 1.5 million gallons of fuel per year.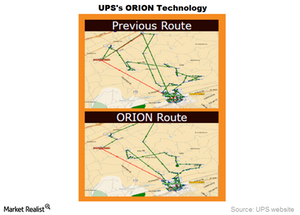 The origin of ORION
In the last part, we learned how technology helped United Parcel Service (UPS) to improve its customer experience. In this part, we will learn about ORION (On-Road Integrated Optimization and Navigation). In the logistics industry, every nanosecond counts.
Delivery routes matter a lot from the cost and time perspective. In 2013, UPS implemented ORION to ensure that its drivers use the most optimized delivery routes considering time, distance, and fuel.
Article continues below advertisement
Article continues below advertisement
ORION
The idea of ORION took shape from the thought process of UPS's founder Jim Casey. He believed that corporations and people should constantly strive for self-improvement. In 2008, UPS steered telematics technologies on delivery vehicles to collect data. The purpose was to locate areas for improving operational efficiencies. Telematics is the integration of computers, mobile devices, and GPS, and it is often utilized in GPS vehicle tracking.
With GPS tracking equipment and vehicle sensors, the company is able to capture information regarding the vehicle routes, idle time, and even whether the driver is wearing a seatbelt. UPS developed a complex algorithm to quickly solve the complicated routing problems. The algorithm includes ~1,000 pages of code and turns the captured data into instruction to optimize the drivers' routes.
Article continues below advertisement
How does ORION work?
The ORION algorithm was originally tested at multiple UPS sites from 2003–2009. The company prototyped ORION at eight sites between 2010–2011. ORION helps parcel delivery via the integration of telematics-equipped vehicles and substantial data crunching of routes, package details, and user preferences.
Each parcel delivered by UPS consists of retrievable data on shipment time and how it matched the delivery commitments. This technology also offers solutions through matching map data and past GPS tracking of identical routes. ORION continually evaluates the best route based on real-time information. Thus, the DIAD (the driver's Delivery Information Acquisition Device) is improved to serve as the tool for informing optimized routes to drivers.
United Parcel Service, through 10,000 routes optimized with ORION, saves up to 1.5 million gallons of fuel per year. The reduction of one mile per driver per day over one year can result in up to $50.0 million in savings. The company plans to deploy the ORION program to nearly all 55,000 routes in the North American market by 2017.
UPS's main competitor, FedEx Corporation (FDX), uses its self-developed route planning technology—Roads. FDX has utilized this decision support and route optimization system since 2008.
ETFs
Logistics and transportation companies form part of the industrial sector. Investors interested in indirect exposure to stocks in the logistics sector can consider the SPDR S&P Transportation ETF (XTN). UPS's prime competitor, FedEx (FDX), makes up 2.78% of the portfolio holdings of XTN. This ETF also invests 2.57% in UPS. Major transportation companies XPO Logistics (XPO) and JetBlue Airways (JBLU) are included in the portfolio of XTN.
Compared with FedEx (FDX), United Parcel Service has achieved a higher operating efficiency in recent years. UPS has better operating margins compared with FedEx. In the next part of this series, we will focus on the company's operating margins in the peer group.