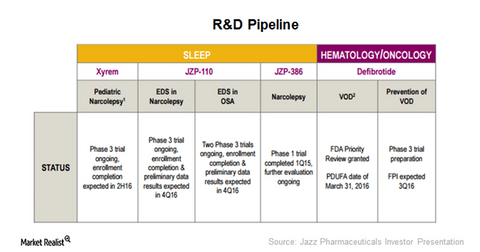 A Look at Jazz Pharmaceuticals' Sleep and Hematology Pipeline
By Jillian Dabney

Updated
Jazz Pharmaceuticals sleep drugs
Jazz Pharmaceuticals' (JAZZ) drug pipeline can be divided into the sleep area and the hematology and oncology area. Its sleep area pipeline drugs include its commercialized key product Xyrem and two pipeline molecules, JZP-110 and JZP-386.
JZP-110 is in phase 3 for the indications of excessive daytime sleepiness in narcolepsy and obstructive sleep apnea. The company anticipates preliminary efficacy results from the three phase 3 clinical trials to be available by the end of fiscal 2016. Following positive outcomes, Jazz expects to file a new drug application in fiscal 2017.
Article continues below advertisement
JZP-386, for which phase 1 trials have been completed, is being further evaluated for narcolepsy. The phase 2 data of the trial didn't support the advancement of JZP-386 into next stage of clinical trials. The company is working on formulation options to enhance the positive effects observed in the phase 1 trial.
During the fiscal 2009–2010 swine flu pandemic in Europe, 31 million people across the region received GlaxoSmithKline's (GSK) flu vaccine Pandemrix. One in 55,000 of those vaccinated experienced narcolepsy.
The claims that the vaccine triggered narcolepsy pushed GlaxoSmithKline to pull the drug from the market. In 2015, Novartis (NVS) researchers identified the possible link between Pandemrix and narcolepsy. Researchers speculated that "people who are predisposed to narcolepsy may have an autoimmune response to the protein in the Pandemrix vaccine that creates antibodies that attack the virus and the hypocretin receptor in the brain."
Hematology portfolio
Jazz Pharmaceuticals' hematology portfolio includes defibrotide, which is being developed for veno-occlusive disease, and Erwinaze, which is for acute lymphoblastic leukemia. Erwinaze holds orphan drug exclusivity until November 2018. Companies such as Alexion Pharmaceuticals (ALXN) and BioMarin (BMRN) also develop drugs for rare diseases.
Any company-, industry-, or economy-specific event can lead to volatility in stock prices. To gain exposure to equity but avoid the excess of risk, investors could opt for funds such as the Vanguard Growth ETF (VUG), which holds 0.10% in Jazz Pharmaceuticals.