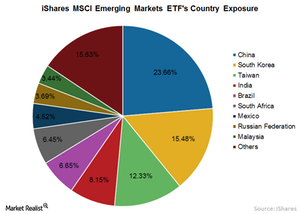 Why Investors Need to Look at Targeted Investment in Emerging Markets
By Tushar Yadava

Updated
More ways to access
As the world's economies become increasingly complex and intertwined, we believe investors should no longer think of "emerging markets" as a single, monolithic allocation, but as multiple global gateways opening onto distinct and varied markets.
Article continues below advertisement
Market Realist – Specific pockets of emerging markets offer the best opportunities
Though valuations in the broader emerging markets have become attractive, investors need to look at specific pockets for better opportunities. Markets like Russia (ERUS), Brazil (EWZS), and Argentina are heavily dependent on oil income for their economic growth. On the other hand, major economies like China, India, South Korea (EWY), and Indonesia are net importers of commodities and have benefited immensely due to the fall in prices. The low oil prices have helped countries like India and Indonesia (EIDO) to lower their fuel subsidies while China is stockpiling fuel supplies for future needs.
Moreover, the economic fundamentals of many emerging markets are expected to stabilize over the next few quarters. Thus, the long-term investors who do bargain hunting in emerging market stocks could see positive gains over a longer period.
Exposure through ETFs
Investors can get exposure to broad emerging markets and specific countries by investing in ETFs. The iShares MSCI Emerging Markets ETF (EEM) provides exposure to large and mid-sized companies in emerging markets. The fund has 23.7% exposure to China followed by South Korea at 15.5%, Taiwan at 12.3%, and India at 8.2%. Similarly, the iShares Core MSCI Emerging Markets ETF (IEMG) provides exposure to a broad range of emerging market companies. The iShares China Large-Cap ETF (FXI) and the iShares MSCI India ETF (INDA) provides targeted investment to China and India, respectively.