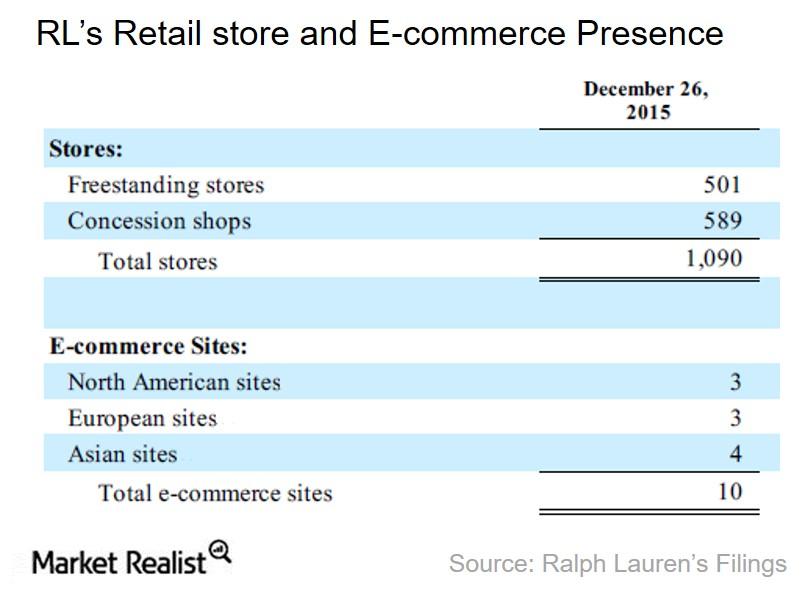 Inside Ralph Lauren's Key Strengths, Potential Upsides, and Key Risks
Strengths and upsides
Ralph Lauren (RL) has a strong brand identity with a global reach. Its business is diversified across channels of distribution, price points, target consumers, and geography. RL's merchandise is available through ~13,000 different wholesale distribution channels, 501 retail stores, 589 concession-based shops-within-shops, and ten e-commerce sites. With such a strong infrastructure in place, RL could very well fight back and register a consistent profitable growth in the near future.
Article continues below advertisement
Expansion through the online platform
Like other apparel and fashion players such as PVH Corporation (PVH), VFC Corporation (CFC), and Coach (COH), RL is also focusing on increasing its presence through the online platform. The company currently offers its products through ten websites in North America, Europe, and Asia. It's also working on a new e-commerce platform that will be launched in 2017.
Asia has become the key focus market for retail players because all major brands are increasing their presence in the region. RL is also expanding its presence in Asian markets, where there is still strong growth potential. The company operates 58 retail stores in Asia (as of March 28, 2015), which is almost double the number of stores operated in Europe.
Factory stores: an attractive channel
Ralph Lauren operates 259 factory stores worldwide, and these act as a secondary distribution channel for the company's excess and out-of-season products. In times when the US and Europe are facing a range of macro headwinds, these stores will likely provide an attractive value proposition for customers.
Key Risks
Europe accounts for a significant percentage of Ralph Lauren's full-priced store sales and wholesale business. But weak macroeconomic conditions in Europe might have a negative impact on the company's revenues in the near future.
The company's top line and margins are likely to continue to be affected by the negative impact of the stronger US dollar. Notably, the First Trust Large-Cap Value AlphaDex ETF (FTA) invests 0.62% of its holdings in Ralph Lauren.