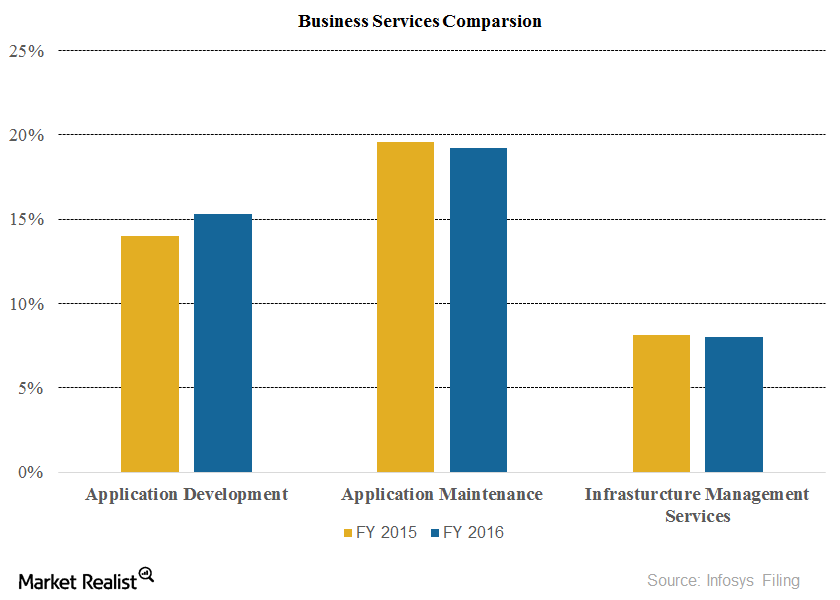 Infosys Signs Major Deals with ConAgra Foods and Welsh Water
ConAgra chooses Infosys as a strategic partner
In fiscal 2016, Infosys (INFY) was chosen by ConAgra Foods (CAG) as a strategic partner for a multiyear managed services deal that will support the latter's application, infrastructure, and information security systems. ConAgra is one of North America's leading packaged food companies.
This solution will leverage Panaya and the IAP (Information Automation Platform), which will help the client to reduce total effort in support, upgrades, and testing. It is also expected to drive innovation, improve service levels and reduce operating costs. Panaya is an Israel-based (EIS) automation technology firm that was acquired by Infosys in 2015. Panaya is building a lineup of products, making automation for large customers efficient and cost-effective.
The above chart shows a marginal rise in revenues for the Application Maintenance and Infrastructure Management Services segments for Infosys in fiscal 2016.
Article continues below advertisement
Welsh Water selects Infosys to set up data center facilities
Infosys also announced that it has been selected by UK-based (EWU) Welsh Waters to set up, migrate, and execute data center facilities and services. The deal goes beyond the core IT infrastructure services and includes managing essential projects such as virtualization, operating system strategy, and database platforms.
Welsh Water is one of the largest water and sewerage companies in the UK and serves 1.4 million homes and businesses. It supplies 828 million liters of water every day and is the fourth largest company in Wales. Infosys will also partner with Vodafone (VOD) to deliver communication services in the infrastructure space.
CEO of Infosys, Vishal Sikka, stated that Infosys is gaining customers in "strategic areas where we never participated before" as businesses are "fundamentally reshaped by digital technologies."