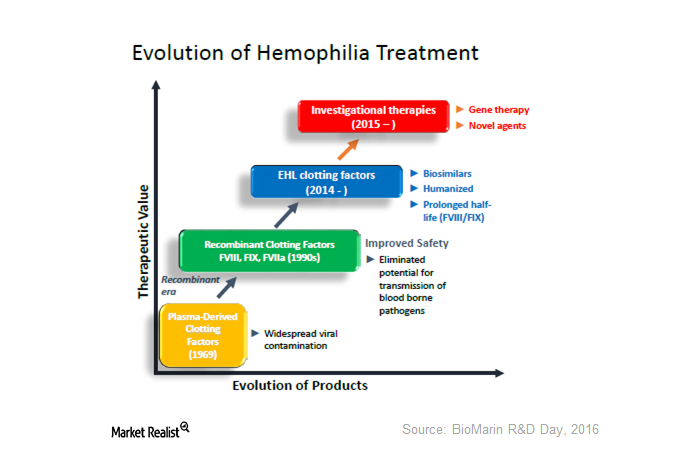 Could Gene Therapy Be a Next-Generation Treatment for Hemophilia?
By Jillian Dabney

Apr. 28 2016, Updated 11:07 a.m. ET
Hemophilia drugs' evolution
Before getting into details about how Baxalta (BXLT) will maintain its hemophilia leadership, let's see how treatment for the disease has evolved. Next-generation therapies for the disease include gene therapy and novel therapy.
Article continues below advertisement
Gene therapy: A new paradigm for hemophilia
Gene therapy is the emerging platform for hemophilia care. If approved, it would be a paradigm. As a result, companies are scaling up for research on gene therapy.
According to the National Institutes of Health, "Gene therapy is designed to introduce genetic material into cells to compensate for abnormal genes or to make a beneficial protein. If a mutated gene causes a necessary protein to be faulty or missing, gene therapy may be able to introduce a normal copy of the gene to restore the function of the protein."
Biogen (BIIB) is evaluating gene therapy for hemophilia in collaboration with Sangamo BioSciences (SGMO). BioMarin's (BMRN) BMN 270 is a pipeline gene therapy indicated for hemophilia A. It received orphan drug designation from the FDA on March 1, 2016. On April 10, 2016, BioMarin reported phase 2 data supporting an increase in factor VIII levels with BMN 270 treatment. The company is now designing phase 3 studies for the gene therapy. If the therapy hits the market before Baxalta's pipeline, the latter could be at a huge disadvantage.
To get exposure to Baxalta and control excessive company-specific risks, investors could invest in the iShares Russell 1000 Growth ETF (IWF). Baxalta accounts for 0.13% of the fund's total holdings.