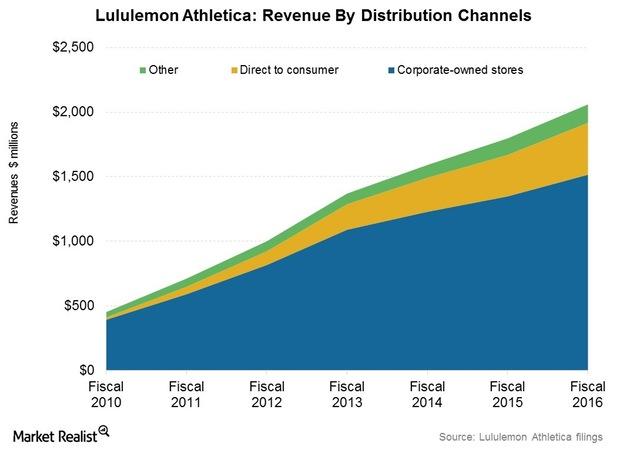 E-Commerce: A High-Growth Business for Lululemon Athletica
Lululemon's e-commerce performance
E-commerce was one of the strongest gainers in Lululemon Athletica's (LULU) upbeat performance in fiscal 2016. Web sales are those made on the Lululemon and ivivva websites in North America and other country-specific websites.
LULU posted e-commerce sales of almost $402 million in fiscal 2016, an increase of 25% year-over-year. In constant-currency terms, online sales grew 30%. The company reported a higher number of sales transactions, driven by both higher site traffic to its Web sales portals and higher conversion rates. Income from the company's direct-to-consumer or online business also rose by 25%, to $166 million in the year.
Article continues below advertisement
Article continues below advertisement
Increasing sales mix
Digital sales now represent 19.5% of LULU's revenue, up from 17.9% a year ago. In contrast, online sales came in at about $0.5 billion for VF Corporation (VFC) in 2015, representing about 4.3% of its total revenue.
In the fourth quarter, LULU's e-commerce sales grew 28% in reported terms and 33% in constant-currency terms. In contrast, sportswear titan Nike (NKE) experienced accelerating growth in online sales. Nike saw e-commerce sales rise 56% in constant-currency terms in fiscal 3Q16.
E-commerce outlook
Lululemon expects its e-commerce channel to continue delivering above-average growth. The company believes that e-commerce could account for about 25%–30% of sales or more by 2020.[1. based on comments by Stuart Haselden, chief financial officer of Lululemon] LULU's new North American website in the United States (VOO) and Canada is slated for launch in the first half of 2016. The company is looking at investing more in digital marketing and other online tools in order to be able to better reach out to its guests.
Other sports apparel companies such as Nike and Under Armour (UA) are investing considerably in their digital businesses. They believe it's a key growth driver for the future.
In the next part of the series, we'll look at Lululemon's profitability, which fell in 2016.