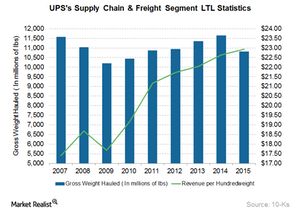 A Deep Dive into UPS's Supply Chain and Freight Segment
By Samuel Prince

Apr. 11 2016, Updated 9:07 a.m. ET
Segment overview
United Parcel Service's (UPS) Supply Chain and Freight segment includes forwarding and logistics services, UPS Freight, truckload freight brokerage, and financial services through UPS Capital. The company provides a broad set of supply chain services in 195-plus countries and territories.
UPS ranks among world's top air freight forwarders and is the top domestic air freight carrier in the US. UPS's offerings include guaranteed and non-guaranteed global air freight services.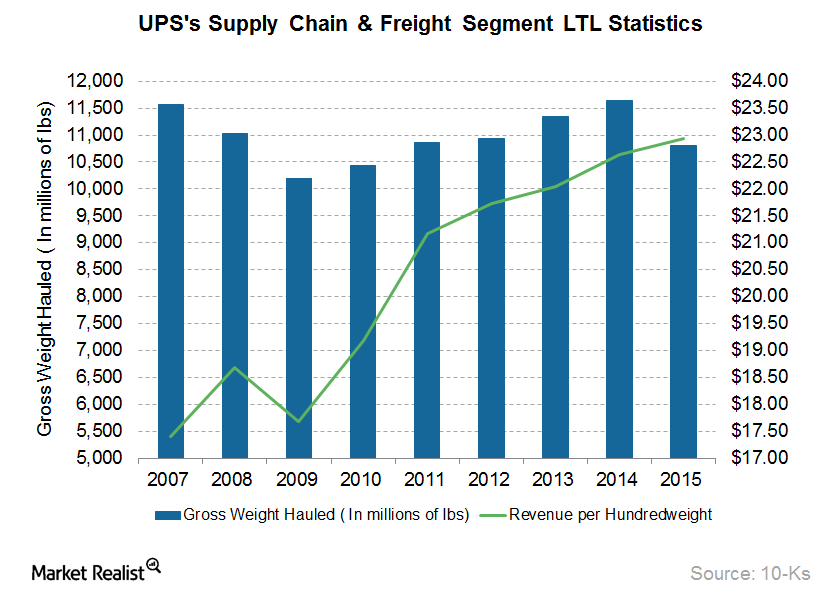 Article continues below advertisement
Segment services
UPS Freight offers a variety of LTL (less-than-truckload) and TL (truckload) services to customers in North America. As we discussed in Part 2, the company acquired Coyote Logistics in 2015. Coyote Logistics is a US-based truckload freight brokerage company. UPS gained large-scale truckload freight brokerage capability through this acquisition.
In the LTL space, UPS Freight primarily competes with YRC Worldwide (YRCW) along with FedEx (FDX). FDX has a market share of 24.3% by tonnage in the US public LTL carriers while YRCW is at 23.4%. Old Dominion Freight Line (ODFL) has a higher market share of 13.4% than UPS Freight's 9.0%.
The Transportation and Logistics sector forms part of the industrial sector. The ProShares Ultra S&P 500 ETF (SSO) invests 7.62% in the industrial sector. UPS also makes up 0.31% of the portfolio holdings of SSO.
UPS Logistics's offering
Distribution services are rendered through a worldwide network of distribution centers. These centers handle the goods from receiving to storage and order processing to shipment.
Post-sales services provide support to merchandise once it is installed or delivered in the field. This includes four primary services: Critical Parts Fulfillment; Reverse Logistics; Test, Repair, and Refurbish; and Network and Parts Planning.
UPS Mail Innovations provides the delivery of lightweight parcels and flat mail to worldwide addresses from the US.
UPS Express Critical offers a variety of urgent global transportation options tailored to suit UPS's core services. The Express Critical service provides solutions to fill the gaps for late cut-offs, weekends, and holidays.
Customs brokerage
UPS is the world's largest customs broker by the number of shipments processed annually. The company offers customs clearance, trade management, and international trade consulting services. United Parcel Service, through UPS Capital, provides financial, insurance, and payment services to customers for risk protection and optimizes the use of cash in the supply chain.
In the coming part, we will take a look at the evolution of UPS as the world's largest parcel delivery company.