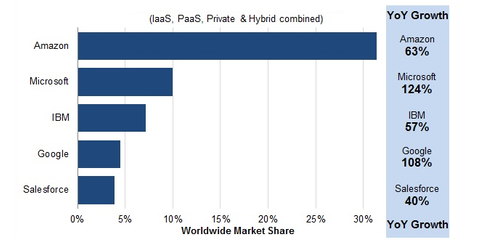 Competition Is Heating Up between Microsoft's Azure and Amazon's AWS
By Anne Shields

Updated
Microsoft's initiatives to enhance Azure adoption
Earlier in the series, we discussed Microsoft's (MSFT) increased initiatives in the cloud space as well as analysts' expectations for the company's upcoming fiscal 3Q16 results. MS Azure, the company's cloud computing platform, is an integral part of its Intelligent Cloud operating segment. Azure grew 140% in fiscal 2Q16, and Azure premium services approximately tripled on a YoY (year-over-year) basis. It's very likely that Microsoft's Azure will continue to repeat its growth story in fiscal 3Q16, given the initiatives the company has taken to increase its adoption.
Article continues below advertisement
In mid-February 2016, Microsoft announced that more than 60% of MS Azure Marketplace images are Linux-based. Acting on this information, Microsoft recently announced the freeing of its SQL Server to run on Linux. Bringing Linux into Azure cloud as well as providing Office 365 on Apple's (AAPL) iOS and Google's (GOOG) (GOOGL) Android is the company's strategy to expand its reach. Moreover, bringing SQL Server to Linux will enable Azure to run on Amazon's (AMZN) AWS (Amazon Web Services), which is a public cloud and mainly Linux-based.

Though Amazon leads the cloud space, Microsoft and Google are aggressively chasing its customers
A few days back, Microsoft announced that Azure won a high-profile Customer in BMW. Thom Brenner, vice president of digital life at BMW Group, announced the launch of BMW Connected, which is a mobile app powered by Azure that runs on Apple's iPhones and iPads.
BMW has been a long-standing customer of Amazon (AMZN) AWS. Thus, Microsoft's win shows how the competition has intensified between Amazon and Microsoft in the cloud. In February 2016, Google (GOOG) (GOOGL) gained a customer in Spotify, a music streaming company that has been using Amazon's AWS for a long time.
Microsoft recorded the highest growth of 128% in the cloud space in 2015 among its peers. Though Microsoft is presenting stiff competition to Amazon, the latter continues to stand tall in the overall cloud space. Investors who wish to gain broad-based exposure to Google can consider investing in the iShares US Technology ETF (QQQ). QQQ has an exposure of 24.5% to application software and invests ~5% of its holdings in Google.
Correction: This article originally claimed that 60% of MS Azure images are Linux-based. This was misstated. We have updated the post to show that 60% of MS Azure Marketplace images are Linux-based. We regret this error.