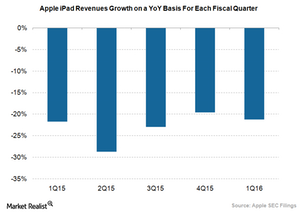 What Will Become the Biggest Growth Drivers for Apple?
Apple continues to grow Apple Watch distribution
Business such as Apple Watch, Apple Pay, Apple TV, and iPad Pro are niche businesses for Apple (AAPL). But these still have the potential to become big in the future.
Apple is looking to expand its Apple Watch business, for example, through distribution. Apple Watch is now available in 48 countries and 12,000 locations. This includes major markets like Australia, Canada, China, France, Germany (EWG), Hong Kong, Japan, and the UK. During the 2015 holiday season, Apple started the distribution of its Apple Watch through retailers like Wal-Mart Stores (WMT), Target (TGT), and Best Buy (BBY).
Article continues below advertisement
Apple aims to revive Apple TV and iPad sales
Similarly, to revive the sales of Apple TV, Apple launched the revamped version of it with its own App Store a few months back. Apple mentioned that there are now more than 3,600 apps that support Apple TV. Another important product for Apple iPad Pro, which is expected to revive iPad's overall business. As the graph above shows, iPad's revenues continue to decline at a rate of around 20% on a YoY (year-over-year) basis.
Apple launched the 9.7-inch iPad Pro in March this year. The iPad Pro may help Apple catch the wave of anticipated growth in large-display tablets and two-in-one products, which include Microsoft's (MSFT) Surface line of products. Incidentally, Microsoft announced its fiscal 3Q16 earnings on April 21 and mentioned that its Surface Pro 4, and Surface Book continued to gain traction while overall revenues for Surface sub-segment grew by a healthy 61%.
In the next and final part, we'll discuss where the latest interest in iPhones has originated.