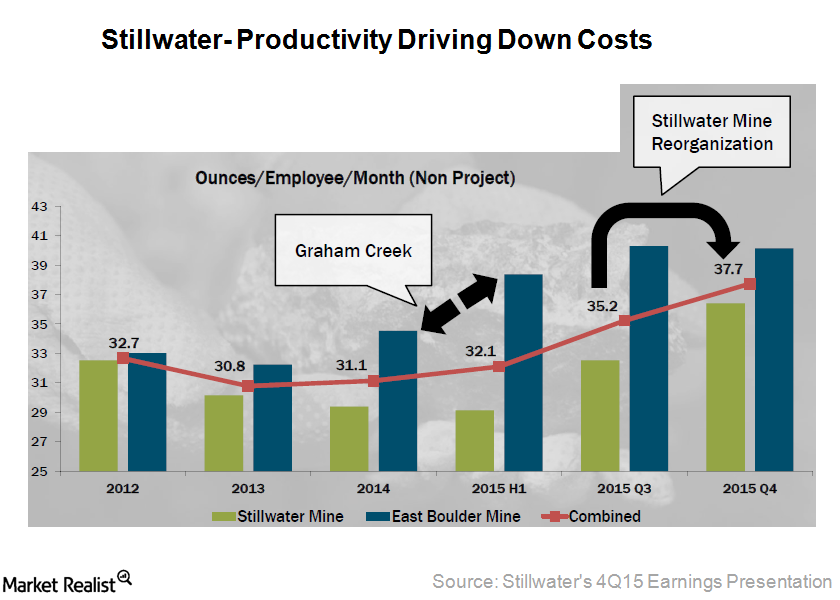 How Is Stillwater Cutting Costs to Stay Ahead of Platinum Prices?
Best AISC on record
Stillwater Mining (SWC) achieved all-in sustaining costs (or AISC) of $613 per ounce of palladium and platinum in 4Q15. That's a decline of 15.4% year-over-year (or YoY). It's also the lowest AISC ever reported by the company. The AISC for 2015 was $709 per ounce, an improvement of 11% YoY.
Article continues below advertisement
Cost-cutting initiatives
Stillwater Mining has significantly reduced its sustaining capex (capital expenditures) by reducing unit costs. The cost of doing a foot of advance has come down significantly, so the company can now do the same foot of advance for fewer dollars. Management replied to the sustainability of business in the long term in view of cutting capex. Michael Mullen, president and chief executive officer, said, "I want to make it clear that the sustaining CapEx spend that we're having at the moment is the amount that's required to sustain the business on a long-term basis. We're not cut backing the sustaining CapEx to a level that doesn't maintain our developed stage."
In addition to savings on sustaining capital, management has made significant progress on other fronts such as productivity improvement and operational efficiencies. The company has also seen a significant increase in recovery rates, which is one of the best in the PGM (platinum group metals) industry. The increasing recoveries at no cost see these ounces falling straight to the bottom line, which in turn helps margins.
Article continues below advertisement
Upside to guidance
The company is looking at even lower AISC costs going forward. While it has a guidance of $615–$665 per ounce for 2016, management conceded that this guidance is conservative and could have an upside based on its 4Q15 cost performance. In the medium term, the company is looking forward to achieving AISC in the mid-$600s.
Despite the company's strong performance on the cost side, its cash margins were squeezed in 2015. This was mainly due to the correction of US dollar (USDU) palladium prices (PALL), which declined 30.5% year-over-year in 2015.
Management also stated that the key challenge remains the spot basket price, which currently sits at ~$600 per ounce.
PGM producers such as Anglo American (AGPPY), Impala Platinum (IMPUY), Aquarius Platinum (AQPTY), and Norilsk Nickel (NILSY) are gaining from currency tailwinds. But there are many downsides of owning equities in these regions. In the next part of this series, we'll see how Stillwater is placed favorably against producers in the above regions.
Investors should note that subject to certain approvals, Sibanye Gold (SBGL) will take over Aquarius Platinum in April 2016.