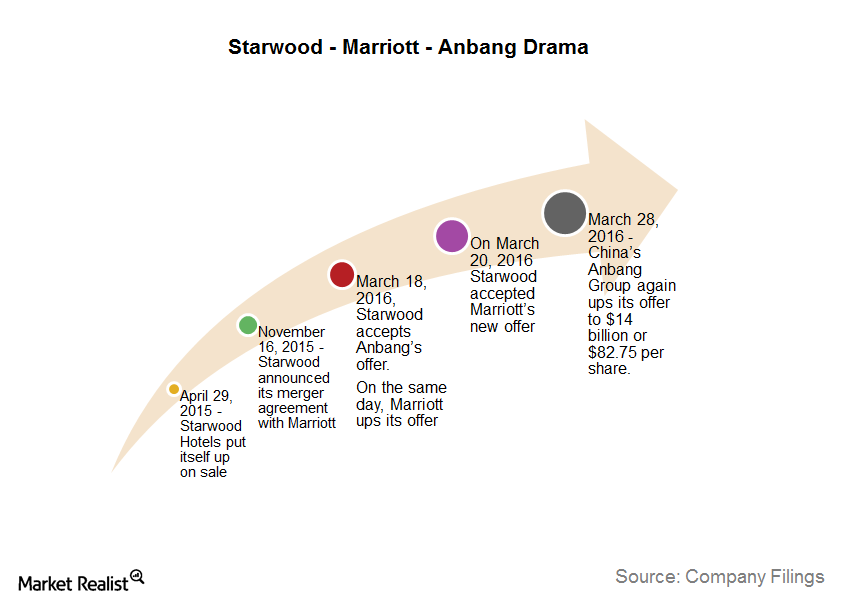 The Starwood Sale: The Story to Date
Starwood sale: Chronology of events
On April 29, 2015, Starwood Hotels (HOT) put itself up for sale, which we'll discuss in more detail in our next article. Initially, Starwood Hotels received interest from a variety of hotel chains, including InterContinental Group (IHG), Hyatt (H), and Hilton (HLT). However, Marriott (MAR) and Chinese insurance giant Anbang Insurance Group are the suitors that lasted.
On August 29, 2015, Starwood representatives Adam Aron (then the interim CEO) and Thomas Mangas (the current CEO) met with Anbang's CEO, Wu Xiaohui. Anbang offered to buy Starwood at a 20% all-cash premium deal on HOT's last closing price, which was $73.29 on August 28.
The deal valued Starwood at $14.65 billion ($88 per share) against its closing market cap of $12.2 billion. Starwood then asked Anbang for details on deal financing, which it failed to provide. On September 2, 2015, HOT and Anbang entered a confidentiality agreement.
On November 3, 2015, Anbang made another all-cash deal to buy Starwood, valuing it between $13.8 billion–$14.3 billion ($83–$86 per share). Again, Anbang failed to provide financing details and had to withdraw the deal.
On November 14, 2015, Marriott offered to buy Starwood at $12.2 billion, or ~$73 per share (Starwood's closing market cap on August 28, 2015). This was a stock and cash deal, with HOT's shareholders receiving 0.92 shares of Marriott stock plus $2 cash for each share of HOT.
On November 16, 2015, Starwood announced its merger agreement with Marriott. The merger included a termination fee of $400 million if either party decided to cancel the deal
On March 1, 2016, Starwood and Marriott announced the clearance of antitrust laws in Canada and the US. This was generally thought to be a done deal, with the shareholder vote scheduled on March 28, 2016.
All that changed on March 10, 2016, when Anbang made another offer for Starwood—again, an all-cash deal valuing Starwood at $13 billion, or $76 per share. However, this time, Anbang could provide details on financing and regulatory matters. The offer did not include any payment of termination fees.
Marriott gave Starwood until March 14, 2016, to decide on the Anbang deal. By March 17, Anbang agreed to pay half of the termination fee and also increased its offer to $13.2 billion, or $78 per share. On March 18, Starwood accepted Anbang's offer.
Article continues below advertisement
On the same day, Marriott upped its offer, this time valuing each Starwood share at 0.8 shares of Marriott stock and $20 cash, and it increased the termination fee to $600 million. This was later increased to 0.8 shares of Marriott stock and $21 cash, or $13.6 billion. The termination fee was reduced to $450 million plus $18 million of merger costs if the deal was cancelled. Marriott justified the deal, claiming higher synergies.
On March 20, 2016, Starwood accepted Marriott's new offer.
As of March 28, 2016, China's Anbang Group again upped its offer to $14 billion, or $82.75 per share.
Series overview
In this series, we will discuss why Starwood (HOT) decided to put itself up for sale, how a merger with Starwood would benefit either Marriott or Anbang, and who could probably win this takeover tussle. We will wrap up the series with the market reaction to all this drama.
Investors can gain exposure to the hotel sector by investing in the First Trust US IPO Index ETF (FPX), which invests ~6% of its portfolio in the industry.