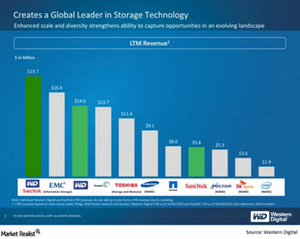 Shareholders Approved the Western Digital-SanDisk Merger
By Puja Tayal

Updated
Shareholders approved the WDC-SNDK merger
Shareholders' verdict is out. Both Western Digital (WDC) and SanDisk (SNDK) shareholders approved the $17 billion merger. So far, the merger had carried a $19 billion price tag. It was reduced to a $17 billion price tag in light of Unisplendour's withdrawal from the deal to acquire a 15% stake in Western Digital.
The merger is coming through despite opposition from a top Western Digital shareholder—Alken Asset Management. In this series, we'll look at the revised merger deal and the opportunities and challenges that it will bring in the changing market landscape.
Article continues below advertisement
Details of the merger
Under the revised deal, Western Digital will pay $67.50 in cash and about 0.24 shares for every share of SanDisk. This values the deal at $17 billion or $78.50 per share—compared to the previous offer of $19 billion or $86.50 per share. Western Digital might look to raise debt of around $10 billion to fund the cash portion of the merger.
On March 15, 2016, over 90% of Western Digital's shareholders approved the issue of new shares needed to fund the merger and 98% of SanDisk's shareholders approved the revised merger offer. If shareholders voted against the merger, Western Digital would have had to pay a termination fee of over $184 million to SanDisk.
Both of the companies have secured regulatory approvals in the US, Europe (IEV), Turkey, Singapore, Taiwan, South Korea, Japan, and South Africa. The merger is pending approval from China. The deal is expected to close in the June 2016 quarter.
The merger synergies have come under question as other flash storage players Micron Technology (MU) and Toshiba (TOSBF) are reporting declining revenue and weaker guidance. We'll discuss this more in the next part of the series.