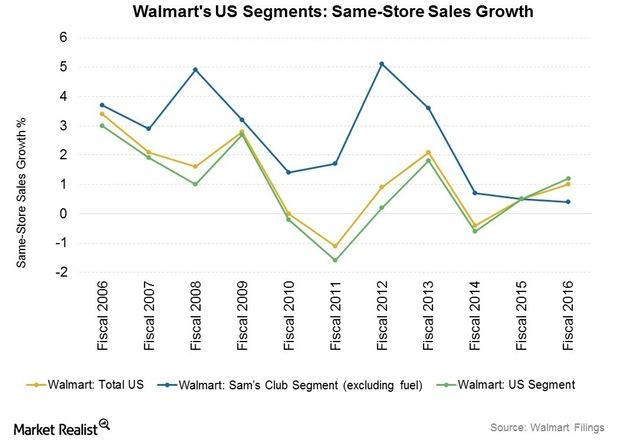 What's Shaping Consumer Spending Trends at Walmart Stores?
How much do shoppers spend at Walmart?
Walmart (WMT) is the world's largest retailer, serving ~260 million customers per week globally, both in brick-and-mortar stores and on its websites. The average store-only shopper spends ~$1,400 per year at Walmart, while the online-only shopper spends ~$200.
However, Walmart shoppers who patronize both physical stores and online channels tend to spend significantly more, at ~$2,500 per year.[1. Based on comments by Steve Bratspies, chief merchandising officer, Walmart US]
Article continues below advertisement
Economy-wide factors
At the Bank of America Merrill Lynch Consumer & Retail Tech Brokers Conference, Walmart's executive vice president and chief financial officer Brett Biggs discussed the factors shaping the US consumer psyche and spending activity.
According to Biggs, while low fuel prices, low interest rates, and low unemployment were providing strong tailwinds spurring consumer traffic and spending in the United States, the consumer was also looking to pay down debt and save.
Recent performance
Walmart US reported its sixth straight quarter of positive comps and its fifth straight quarter of positive store traffic in fiscal 4Q16. This was backed by the same macroeconomic factors discussed above. However, Sam's Club reported both lower traffic at -1.4% and lower same-store sales at -0.5% in fiscal 4Q16. This was below the company's guidance of flat to 1% growth for the segment.
At the heart of slower growth (VIG) at Sam's Club has been the difficulty of attracting the Millennial demographic. Wholesale clubs including Sam's Club competitor Costco (COST) are stepping up their efforts to woo the Millennial demographic. However, Walmart is upbeat about this critical segment. We'll discuss why in Part Four of this series.
Competitor performance
Lower prices at the pump have been instrumental in spurring higher consumer traffic for Walmart's rivals Target (TGT) and Costco, as have the other macroeconomic factors mentioned above.
Despite the additional store traffic that low-priced gas is likely to bring, sales for retailers that sell fuel such as Costco, Kroger (KR), and Walmart's Sam's Club have been negatively affected due to top line impact.