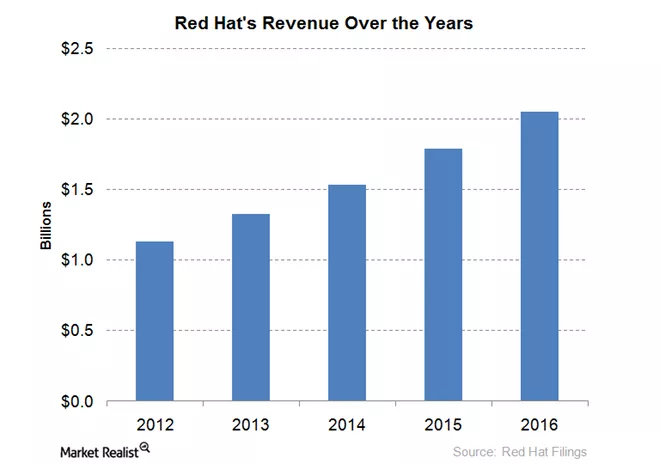 Red Hat Posts Yet Another Quarterly Growth in Revenues
By Adam Rogers

Mar. 29 2016, Published 2:59 p.m. ET
56th consecutive quarter of revenue growth
Red Hat (RHT), a leading Linux software and open-source provider, was the latest in the technology space to announce its fiscal 4Q16 earnings. Created in 1991, Linux is an OS (operating system) that is free to use for everyone.
Red Hat posted revenues and non-GAAP (generally accepted accounting principles) EPS (earnings per share) of $543.5 million and $0.52, respectively, which beat analysts' estimates by $8.9 million and $0.02, respectively.
For fiscal 2016, Red Hat reported revenues and EPS of $2.1 billion and $1.90, respectively. Fiscal 4Q16 marked the 56th straight quarter of revenue growth for Red Hat. Moreover, fiscal 2016 was the first fiscal year in which the company earned more than $2 billion in total revenues.
Article continues below advertisement
Strong dollar fails to dampen Red Hat's revenue growth
On a year-over-year basis, Red Hat's fiscal 4Q16 and 2016 revenues rose by 17% and 15%, respectively. On a constant currency basis, Red Hat's fiscal 4Q16 and 2016 revenues rose by 21%.
Red Hat, like its technology peers, suffered from the strengthening US dollar (UUP). Oracle (ORCL), Symantec (SYMC), Microsoft (MSFT), and IBM (IBM) are other tech players that derive a majority of their revenues from outside the United States. As a result, their top lines are impacted when the US dollar appreciates.
Increased preference of IT sector toward open source has benefited Red Hat's subscriptions
Within Red Hat's subscription revenues, revenue from infrastructure-related offerings in fiscal 2016 grew 12% to $1.5 billion. In constant currency terms, this growth was 18%. Subscription revenue from application development–related and other emerging technologies in fiscal 2016 rose 37% to $323 million. In constant currency terms, this growth was 43%.
Red Hat's subscription revenue has significantly benefited from growth in its infrastructure-related offerings. Red Hat has partnered with Microsoft and Amazon's (AMZN) Amazon Web Services to distribute Linux OS for its enterprise environment RHEL (Red Hat Enterprise Linux).