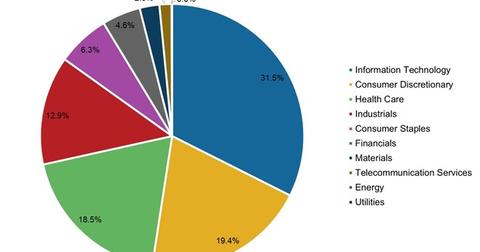 A Quick Look at the Principal LargeCap Growth Fund I
By David Ashworth

Updated
Principal LargeCap Growth Fund I overview
The Principal LargeCap Growth Fund I (PLGAX) invests at least 80% of its assets in equities of large-cap companies. The fund considers those companies as large caps whose market caps are in the range of companies making up the Russell 1000 Growth Index. The fund is managed by James W. Fennessey and Randy L. Welch, both of whom have been managing the fund since June 2009.
The fund focuses on growth-oriented companies, which means that it focuses on companies whose capital and earnings growth potential is expected to be above average. Principal Management Corporation invests between 10%–30% of the fund's assets in those equity securities that comprise the aforementioned index, with the goal of matching or exceeding the performance of the index.
The weights of these securities can either be higher or lower than the index. The rest of the assets are managed by sub-advisers.
Article continues below advertisement
Portfolio composition
According to information provided by the fund house, information technology was the single-largest sectoral holding of the fund and formed 31.4% of the portfolio as of February 2016. Consumer discretionary and healthcare, in that order, were second and third and formed a combined 38% of the portfolio. Industrials and consumer staples rounded off the top five invested sectors.
Intuitive Surgical (ISRG), Starbucks Corporation (SBUX), Estée Lauder (EL), Boeing (BA), and Amphenol Corporation (APH) were among the fund's 619 holdings as of the end of February. As of February 2016, the fund was managing assets worth $6.7 billion.
Fee and minimums
Founded in March 2013, the Principal LargeCap Growth Fund I – Class A (PLGAX) has an extended performance inception date of December 2000. It has an expense ratio of 1.25%. There is a minimum of $1,000 to invest in this fund via Class A shares, and the minimum subsequent investment is $100. The fund can charge a maximum sales charge of 5.5% of the offering price on the purchase of Class A shares.
In the next article, we'll look at some of the key metrics of the fund's performance in the one-year period ended March 18, 2016.