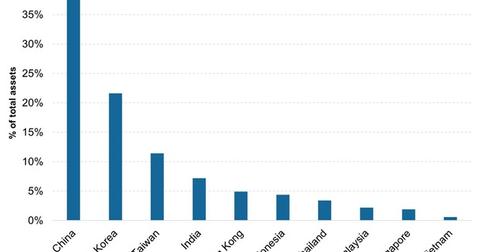 A Quick Look at GSAGX
By David Ashworth

Mar. 7 2016, Published 4:57 p.m. ET
Goldman Sachs Asia Equity Fund
The Goldman Sachs Asia Equity Fund (GSAGX) aims to invest 80% of its net assets in "a diversified portfolio of equity investments in Asian issuers (excluding Japanese issuers)." Apart from stocks, the fund can invest in ETFs and futures. The fund is managed by Kevin Ohn and Alina Chiew.
The fund's literature states that though its holdings will be focused on the aforementioned region, it can invest into equities of non-Asian companies as well as those from Japan.
Article continues below advertisement
Fund managers allocate assets according to their estimates of a security's upside potential and downside risks, its attractiveness compared to its peers, and the way its addition will impact industry and sector composition. Fund managers look for "well-positioned, cash-generating businesses run by shareholder-oriented management teams." The fund is benchmarked to the MSCI All Country Asia ex-Japan Index.
Portfolio composition
GSAGX hasn't provided sector-level breakdowns, so we'll move straight to its geographic composition. China is the fund's biggest invested geography, making up 37.9% of its assets. South Korean equities follow, making up a little over one-fifth of the fund's assets.
Stocks from Taiwan, India, and Hong Kong round off the fund's top five invested geographies. Compared to the aforementioned index, the fund is overweight in Chinese, South Korean, Indonesian, and Thai equities, while being underweight in Taiwanese, Indian, Hong Kong, Singaporean, and Malaysian equities. Unlike most other funds in this review, the fund is not invested in Australian equities.
Article continues below advertisement
Alibaba Group Holding (BABA), Cognizant Technology Solutions (CTSH), Taro Pharmaceutical Industries (TARO), Ctrip.com International (CTRP), and Advanced Semiconductor Engineering (ASX) were among the fund's 98 holdings as of January's end 2016. As of January, the fund was managing assets worth $69.9 million.
Fee and minimums
GSAGX has existed since July 1994 and has an expense ratio of 1.6%. You require a minimum of $1,000 to invest in this fund via Class A shares, and the fund can charge a maximum sales charge of 5.5% of the offering price. A minimum of $50 is required for subsequent investment in this class.
In the next article, we'll look at some of the key metrics of the fund's performance in the one-year period ended February 2016.