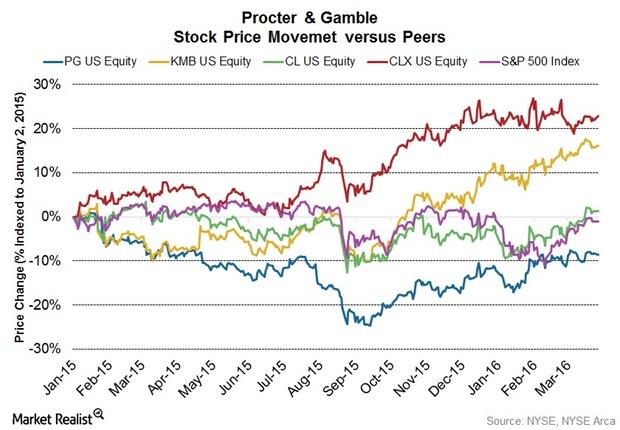 P&G's Stock Price Reaction to the Old Spice Lawsuit
Stock price movement
After a lawsuit was filed against Procter & Gamble (PG), or P&G, for its Old Spice deodorant, P&G's stock price opened with a fall of 0.4% to $82.46 on March 24, 2016. Although the stock reacted to the news, it rebounded and was trading ~0.1% higher than the previous day's close.
Procter & Gamble's stock has consistently fallen since the beginning of last year. However, the stock was able to post some gains last year until September. It fell almost 17.2% to $68.06 on September 14, 2015, from $82.24 on July 17, 2015. The fall was primarily due to currency headwinds and the fall of global markets, particularly in the Asia-Pacific region. P&G's stock fell 8.6% to $82.62 from January 2015 to March 28, 2016.
Article continues below advertisement
Deodorants versus antiperspirants
According to Damon Jones, a P&G spokesperson, Old Spice is used every year by tens of millions of men without incidents reported. However, men who have experienced rashes or any other reaction to a deodorant are advised to use antiperspirants, which have a different formulation. Deodorant products contain alcohol, which leads to irritation.
The lawsuit claims Old Spice is defective, but P&G is still selling the product and claims it is safe to use. This could affect P&G's revenue and weaken its stock price.
PG makes up 2.4% of the iShares Global 100 ETF (IOO).[1. Updated on March 28, 2016].
Procter & Gamble's stock rose 2.6% after the company declared fiscal 2Q16 results. The company's fiscal 3Q16 ends tomorrow. We'll see how the lawsuit affects earnings when the company reports results next month.