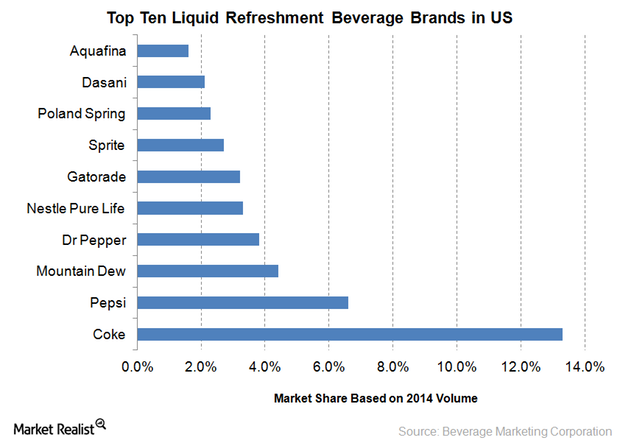 An Overview of the US Nonalcoholic Beverage Industry
US nonalcoholic beverage market
The US nonalcoholic beverage market comprises categories like carbonated soft drinks, ready-to-drink tea and coffee, bottled water, sports drinks, and energy drinks. In 2014, US liquid refreshment beverage market volumes rose 2.2% to 30.9 billion gallons. You can compare this growth to a 0.1% decline in overall volumes in 2013. The 2014 volume growth was mainly driven by noncarbonated or still beverages. Soda drinks—also called carbonated soft drinks or CSDs—remain the largest segment of the US liquid refreshment or nonalcoholic beverage market. But this segment has had persistently weak volumes over the past few years.
Article continues below advertisement
Major brands
According to Beverage Marketing Corporation data, the top four brands in the US liquid refreshment beverage market in 2014 belonged to the carbonated soft drink category. In recent years, categories like bottled water and sports drinks have gained popularity among consumers. The top ten liquid refreshment brands in 2014 included four popular bottled water brands: Nestle (NSRGY) Pure Life, Poland Spring, Dasani, and Aquafina. PepsiCo's Gatorade sports drink brand also ranked among the top ten US liquid refreshment brands.
Coca-Cola constitutes 8.2% of the iShares U.S. Consumer Goods ETF (IYK).
Key players
The major players in the US liquid refreshment beverage market are Coca-Cola (KO), PepsiCo (PEP), Dr Pepper Snapple (DPS), Monster Beverage (MNST), Cott Corporation (COTT), National Beverage (FIZZ) and Nestle Waters North America. According to Beverage Digest, soda behemoths Coca-Cola and PepsiCo together accounted for 59% of US liquid refreshment beverage market volumes in 2014 and 69.8% of the US carbonated soft drink market.
Coca-Cola alone has about 20 brands generating over $1 billion in annual retail sales. These brands include Coca-Cola, Sprite, Diet Coke, Dasani, Minute Maid, and Powerade.
Wider choices
A rising population, urbanization, and an emerging middle class have influenced the nonalcoholic beverage landscape. The influential Millennial demographic includes consumers born between 1977 and 1995. This group has also impacted the industry. According to Nielson, the 77 million Millennials will account for almost 30% of total consumer product dollars spent by 2020. This well-informed group looks for value-for-money products, wider choices, and innovative packaging.
Well-informed consumers are increasingly demanding healthier beverage choices and organic ingredients. This shift in preferences has been impacting soda beverage volumes in developed markets like the United States.