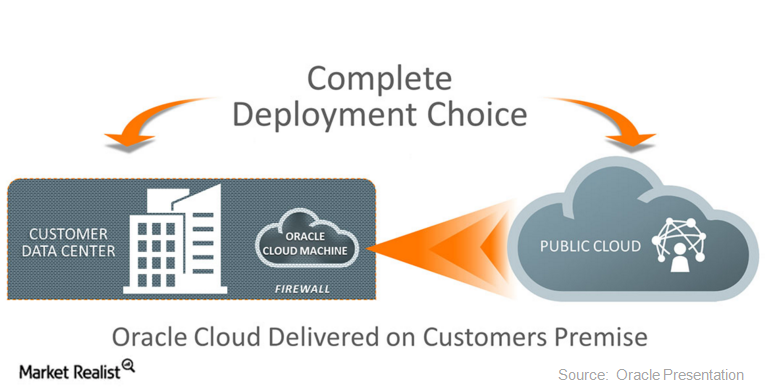 Oracle Cloud at Customer: Could It Boost Oracle's Position?
Oracle Cloud at Customer: Oracle's newest offering in the cloud space
On March 24, 2016, Oracle (ORCL) announced a new service in the cloud: Oracle Cloud at Customer. It's a hybrid cloud structure in which a client, according to its preference, can run the workload on-premise or in the Oracle cloud. The client can run it with a standard set of tools, APIs (application programming interfaces), and experiences. Oracle bears the responsibility for the operation, maintenance, and upkeep of the server.

Article continues below advertisement
Oracle plans to attract security-conscious customers
With Oracle Cloud at Customer, Oracle aims to attract clients who are wary of using cloud services because of security concerns. This service lets them run Oracle Cloud on their own premises. Customers will have control over VM (virtual machines) and will own applications in the cloud. Their security concerns will be minimized since their sensitive data will be on their premises only. With this offering, Oracle is duplicating its public cloud in customers' premises.
Approximately half of the cloud service revenue comes from IaaS (Infrastructure as a Service). The space is dominated by Amazon's (AMZN) AWS (Amazon Web Services), which is expected to rise 38.4% to $22.4 billion in 2016. According to Gartner, growth in IaaS is expected to drive growth in the cloud space in 2016.
Salesforce (CRM) dominates PaaS (Platform as a Service) and SaaS (Software as a Service) spaces, while Microsoft (MSFT) recorded the highest growth of 128% in the cloud space in 2015.
You might consider investing in the SPDR S&P 500 ETF (SPY) to gain exposure to Oracle, which makes up 0.7% of SPY. Investors who would like application software exposure could also consider SPY. Application software makes up ~7% of SPY.
In the next part of this series, we'll see how Oracle plans to benefit in the current IT (information technology) space.