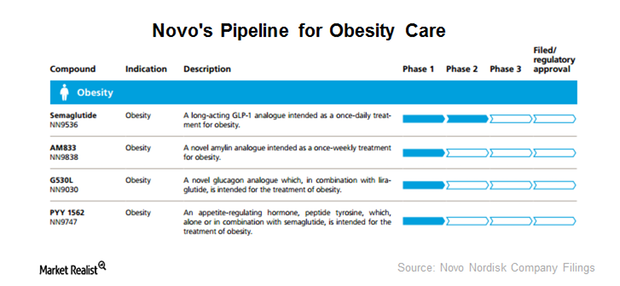 How Much Potential Does Saxenda Hold for Novo?
By Jillian Dabney

Apr. 17 2016, Updated 10:04 a.m. ET
Novo's obesity care market share
Novo Nordisk's (NVO) anti-obesity drug portfolio includes Saxenda. For details on the drug and the obesity care market, please refer to Novo Nordisk Aims to Establish Strong Presence in Obesity Market.
Saxenda, a glucagon-like peptide-1 (or GLP-1) analog therapy, holds 31% market share for branded anti-obesity drugs. It earned 4.7 billion Danish kroner for Novo during fiscal 2015, ~4% of Novo's total revenue.
Novo has four drugs in its pipeline indicated for treating obesity. Thus, it plans to develop a long-term presence in the anti-obesity drug market.
Article continues below advertisement
Market and competition for Saxenda
Though the drug has huge potential, it won't prove to be a blockbuster therapy very soon. One of the reasons is that obesity is not treated as a chronic disease.
To overcome this hurdle, Novo has planned to educate doctors and payers about the benefits of the drug. More than 600 million adults suffer from clinical obesity, which is characterized by body mass index (or BMI) of 30 or above. The drug is focusing on people who have BMIs over 35. The global anti-obesity pharmaceuticals market is valued at 10 billion Danish kroner.
Saxenda competes with Arena Pharmaceuticals' (ARNA) Belviq, Vivus's (VVUS) Qsymia, and Orexigen Therapeutics' (OREX) Contrave. Contrave is distributed by Takeda Pharmaceutical (TKPYY).
Industry-specific and company-specific events lead to volatility in stock price. To avoid such a risk and at the same time get exposure to Novo's equity, investors can opt for ETFs like the Vanguard FTSE All-World ex-US ETF (VEU), which invests 0.33% of its holdings in Novo.