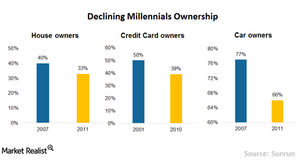 How Millennials Are Driving the Sharing Economy
What about the sharing economy? Is it here to stay? Millennials have really jumped on the sharing economy bandwagon. They're taking a more asset-light stance toward consumption, putting off buying a home in favor of renting, forgoing a car payment and taking Uber, or skipping a hotel in favor of booking a room via Airbnb. This trend really exemplifies the higher volumes/lower prices model we see from places like Amazon, driving more efficient consumption that's not necessarily reflected in traditional economic metrics. In fact, millennial-spurred technological changes are just one of the big-picture trends transforming the U.S. economy that we have yet to see the statisticians fully address.
Article continues below advertisement
Market Realist – A technology-driven economic model
Millennials' affinity for technology (IYW) (IGM) has provided a big boost to the sharing economy. Though the idea of sharing isn't new, introducing technology into the concept has made a huge difference. Digital technologies like GPS-enabled smartphones allow millennials to quickly make and respond to requests for goods and services and complete the transactions through online payment systems like PayPal. Data analytics (GOOGL) and algorithms are identifying idle capacity to share on-demand with the needy at a much lower cost than traditional businesses.
Millennials resonate with the idea of the sharing economy since it perfectly fits their budgets. Millennials took longer than expected to enter the job market—and at lower wages. Servicing huge student debt is another issue straining their already fragile financial situation. No wonder the technology-driven, asset-light, and low-cost consumption model appeals to millennials. They shun asset ownership and prefer sharing. Instead of buying homes, they use AirBnb to share their homes and Uber Pool and Zipcar to share cars.
These kinds of advances in technology and automation are transforming the economic landscape of the United States (IWF) (IWD). However, these benefits aren't accounted for in any of the traditional productivity and consumption measurement metrics due to various flaws in measurement. As a result, productivity figures—as represented by traditional metrics—understate the exttent of technology in generating economic output.