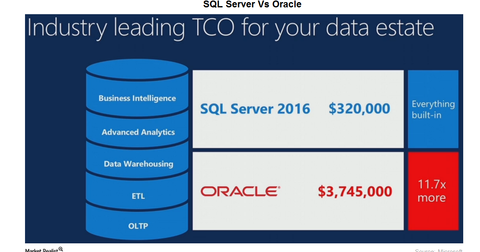 How Microsoft Intends to Surpass Oracle in the Database Space
By Anne Shields

Updated
Oracle is the undisputed leader in the database space
Previously, we discussed how the emergence of open-source software is posing a threat to established players in the database space. By enabling SQL Server to run on Linux, Microsoft (MSFT) intends to better its position in the database space, which is currently dominated by Oracle (ORCL). Oracle supports Linux.
The International Data Corporation stated that Oracle accounted for ~46% of overall database sales in 2014. It was followed by Microsoft and IBM (IBM), which accounted for 19% and 16% of database sales, respectively. SAP (SAP) is also a leading player in the database space.
According to a DB-Engines January 2016 report, "Oracle is the clear leader in the DB-Engines Ranking since we started more than three years ago."
The report further stated, "Its ranking score saw some ups and downs in that period, but 2015 was an exceptionally good year for Oracle, gaining 56.9 scoring points." DB-Engines tracks the popularity of database technologies.
Article continues below advertisement
Microsoft targets Oracle's dominance in the database space
Microsoft's intention to surpass Oracle's position in the database space became evident when Judson Althoff, president of Microsoft North America, drew a comparison between SQL Server 2016 and Oracle database capabilities.
Althoff stated, "Oracle is nearly 12 times more expensive," as the above Microsoft presentation shows. He went on to say, "So if you are willing to migrate off of Oracle, we will actually give you free SQL Server licenses to do so." He further stated, "We'll help invest in migration costs, put engineers on the ground to help you migrate from Oracle."
However, Microsoft is offering only main SQL software, and hardware is not included in this offer. Moreover, customers must pay for a Software Assurance license for support and services.
Investors who wish to gain broad-based exposure to IBM could consider investing in the iShares US Technology ETF (IYW). IYW has an exposure of 46.7% to application software and invests ~12.5% of its holdings in IBM.