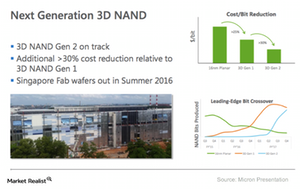 Why Micron Is Fast-Tracking Its 3D NAND Technology Development
By Puja Tayal

Updated
Micron expands 3D NAND capacity
While Micron Technology (MU) is looking to differentiate its 3D NAND flash technology from the rest in the industry through unique architecture, the joint venture between SanDisk (SNDK) and Toshiba (TOSBF) boasts that it has developed a 3D NAND that offers the largest capacity. What's this mean for Micron's advances in the 3D NAND space? Let's look at some statistics.
Article continues below advertisement
3D NAND Generation 1 and 2 production schedule
Micron plans to prioritize the production of 3D NAND on TLC (triple-level cell) die over MLC (multi-level cell) as production grows in fiscal 2017. But the production of 3D NAND Generation 1 is expected to overtake the production of 16 nm planar in fiscal 4Q16. So over the course of few more months, 3D NAND should overtake all of Micron's NAND bits.
In the meantime, Micron is developing 3D NAND Generation 2 technology, expecting to start production in fiscal 2Q17, and will continue to expand capacity throughout the year. The second generation's volume production is supposed to be faster than that of Generation 1 and may cross the production of the latter toward the end of fiscal 2017.
Cost benefits
With improved technology, costs will likely reduce at a faster pace. While Generation 1 should bring a 25% cost benefit for 16nm planar, Generation 2 should bring a 30% cost benefit for Generation 1. Additionally, Micron claims that its unique 3D NAND architecture could bring a 20% cost benefit over the general 3D NAND design. With these advancements, Micron is looking to increase its NAND volume by 140%–150% and reduce costs by 65%–75% by fiscal 4Q17.
The company will produce 3D NAND Generation 1 at its Fab 10X in Singapore (EWS). It will manage the capacity based on what happens to the new chips produced. Micron's joint venture partner, Intel (INTC), is also revamping its China fabrication plant to produce flash memory chips, especially 3D NAND.
Now let's take a look at Micron's memory solutions.