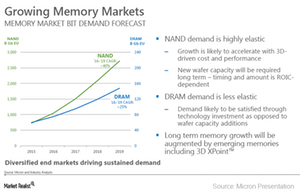 What Micron Believes Will Drive DRAM Demand Going Forward
By Puja Tayal

Dec. 4 2020, Updated 10:53 a.m. ET
Key memory products: DRAM and NAND
We've already discussed how Micron Technology (MU) expects the memory market to outperform the semiconductor market due to opportunities generated by data explosion. Now let us look at the demand scenarios for DRAM and NAND.
The memory market is made up of volatile memory, or DRAM (dynamic random access memory), and non-volatile memory, or NAND (negative AND). DRAM is more expensive than NAND and needs power to store data, whereas NAND is cheaper than DRAM and can store data without power. Notably, DRAM is faster and more durable than NAND, which has a limited number of chances to read, write, and erase data.
We should note here that the DRAM market is dominated by three players: Samsung (SSNLF), SK Hynix, and Micron. The NAND market has two more players: Intel (INTC) and a partnership of SanDisk (SNDK) and Toshiba (TOSBF).
Article continues below advertisement
DRAM demand forecast
Micron expects DRAM demand to grow at a CAGR (compounded annual growth rate) of 20%–25% between 2016 and 2019, driven by migration to advanced technology. Despite the introduction of new memory products and slow unit growth in some end markets (PCs and smartphones, for example), the demand for main memory and scratchpad memory could continue to drive DRAM demand in the future.
While the overall DRAM demand is expected to grow by up to 25%, maximum demand growth is expected to come from server and storage (at 40%), automobiles (at 40%) each), and smartphones (at 25%). The only segment that is likely to underperform is PC DRAM, for which demand is expected to slow from more than 20% in 2015 to around 10% between 2016 and 2019.
Capitalizing on the diversified DRAM market
Micron has been shifting away from PC and toward mobile DRAM. In 2014, Micron acquired Japan's (EWJ) only mobile DRAM manufacturer, Elpida, which almost doubled Micron's revenue, from $9 billion in fiscal 2013 to $16 billion in fiscal 2014. Moreover, the company offers a segment-specific DRAM solution by packaging it with dynamic sub-systems, firmware, controllers, and software.
In the next part, we'll take a closer look at Micron's forecast for NAND demand.