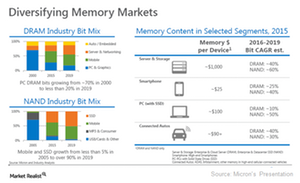 Micron Aggressively Expands Its 3D NAND Capacity
By Puja Tayal

Updated
New entrants in the NAND market
In the previous part of this series, we saw that Micron (MU) is investing in DRAM (dynamic random access memory). In contrast, Micron's peers are focusing on NAND (negative AND), a type of flash memory used in smartphones, wearables, and SSDs (solid-state drive). Samsung (SSNLF) is expanding the capacity of its 3D NAND facility in China (MCHI).
New players are entering the flash memory space. Intel (INTC) has committed $1.5 billion in the memory space. It is converting its China plant to manufacture flash memory, especially 3D NAND. Even SanDisk (SNDK), which is being acquired by Western Digital (WDC), entered the flash market in mid-2015 and is building a 3D NAND memory plant in Japan (EWJ) in collaboration with Toshiba (TOSBF).
Article continues below advertisement
Micron's NAND strategy
Meanwhile, Micron is aggressively expanding its 3D NAND capacity. It aims to spend up to $2.5 billion of capital on ramping up production of 3D NAND Gen 1 and starting manufacturing of the Gen 2 chip. Shifting toward 3D NAND Gen 1 would reduce the cost per bit by more than 25%. This reduction will continue as it ramps up Gen 2 memory. The company aims to expand the bit output of 3D NAND by 50% by the fall of 2016.
In fiscal 2017, the company expects to start mass production of 3D NAND Gen 2. By 4Q17, the company aims to reduce the cost per bit by 65%–75% and achieve a cost advantage over its competitors. The advantages of a capacity ramp-up are expected to be realized in the latter half of calendar 2016.
Micron sees growth in the memory market 
Despite a slowdown in the consumer markets of PCs and smartphones, Micron is undergoing aggressive expansion over its anticipation of growth. At its Winter Analyst Conference in February 2016, Micron shed some light on the growth opportunities in the memory space. We will learn more about this in the next part of the series.