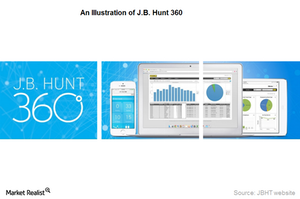 J.B. Hunt 360: J.B. Hunt Transport's Technological Innovation
By Samuel Prince

Mar. 15 2016, Updated 4:05 a.m. ET
J.B. Hunt 360
In November 2014, J.B. Hunt Transport implemented transportation management software called J.B. Hunt 360. It is capable of integrating shipment management over multiple transit types. J.B. Hunt 360 provides users with access to published rates, as well as pricing requests for new shipping lanes.
JHBT calls J.B. Hunt 360 an intuitive transportation management system. The company claims to realize improved workflows, tighter integration, and mobile tools. This transportation software helps users to get a quote, book and track a shipment, or create an online report. J.B. Hunt 360 offers an online experience with real-time visibility into the shipper's supply chain.
Article continues below advertisement
The service offerings
J.B. Hunt 360 features a streamlined, integrated workflow.
It provides access to get a quote and book a shipment.
It also supplies clients with notifications via text and email.
It contains features that provide access to shipment history and the ability to schedule reports.
It provides a list of scheduled appointments, intermediate stops, and shipment line items with quantity and weight.
It enables shippers with options, resources, and a reliable solution for their shipping needs.
It offers shippers with a 360-degree visibility. It contains features that ease transportation management and is accessible from anywhere.
The J.B. Hunt 360 enables shippers to make quick decisions through complimentary access to an industry-leading analytics platform. It stores a year of client-specific data.
In the fast pace of supply chain management, J.B. Hunt 360 marshals multiple solutions and provides customers with complete control over their shipments. However, with increased competition among logistics companies, JBHT's competitors have also adapted by using increased technology for optimum customer service.
Landstar Systems (LSTR) has integrated its CarrierWatch monitoring service into its companywide transportation management. Swift Transportation (SWFT) selected Oracle Transportation Management. Knight Transportation (KNX) implemented IDSC ExpertFuel to optimize fuel purchases and route plans for drivers.
The SPDR S&P Transportation ETF (XTN) holds 2.73% in JBHT, 3.36% in SWFT, 2.7% in LSTR, and 2.69% in KNX. For investors opting for a pure play in trucking companies, this ETF invests 26.09% in trucking companies.
In the next part, we'll go through some of the issues dogging the entire trucking industry, starting with hours of service.