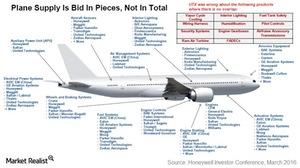 Why the Honeywell-United Technologies Merger Failed to Take Off
Honeywell proposes, United Tech disposes
Both Honeywell (HON) and United Technologies (UTX) recently confirmed that they had engaged in conversations related to a potential merger to create a global aerospace (ITA) behemoth. Honeywell made an offer of $108 per share, a 22% premium on United Tech's share price on February 19, 2016, the offer date.
Honeywell stated that the combined entity would create $3.5 billion in cost synergies, close to 6% of United Tech's sales and 4% of sales for the combination. However, citing "insurmountable regulatory challenges" and a possible opposition from customers in the aerospace (XAR) industry, United Technologies spurned the offer.
Article continues below advertisement
As seen in the above illustration, Honeywell did not believe there were substantial overlaps in their aerospace businesses and argued that aerospace supply is bid in parts. However, after United Technologies declined the offer, Honeywell confirmed in its Investor Conference on March 2, 2016, that it shelved its plans for a merger and had no plans to take the company hostile.
Understanding the naysayers to the UTX merger
Major aircraft manufacturers–particularly Boeing (BA), Airbus (EADSY), and Bombardier–expressed unease over having the domineering combination of Honeywell and United Technologies in their supply chains. After all, the colossus would make everything from nose to tail of an aircraft, eroding whatever negotiating power aircraft manufacturers would have in sourcing their supplies.
The merger would also concentrate unrivaled scale advantages in the hands of a single company. Whether the industry competition commissions would allow such a concentration to take place without significant divestments is a big question mark. Significant divestments in their core portfolios could defy the rationale behind the deal.
Lastly, there were concerns on whether the merger would be approved in a hotly contested election year in the US, which would have caused an additional delay of 18 months in a conservative scenario.