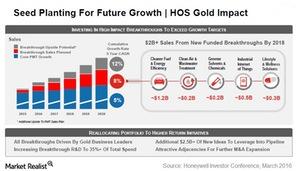 Honeywell PMT: Winning by Innovating
By Shannon Black

Mar. 21 2016, Updated 11:04 a.m. ET
Competitive advantage: Technology, differentiation, scale
Differentiated products, technological know-how, and capital intensity offer significant protection from competition in the specialty chemicals (VAW) industry. The industry is highly fragmented, with no firm commanding a market share of 10% or more.
Environmental regulations in emerging markets such as China and India present a high-growth area for companies with significant scale advantages, such as Honeywell, to access. Honeywell's competitors in the segment such as Dow Chemicals (DOW) and Dupont (DD) are behemoths that have the advantage of deep pockets.
Therefore, Honeywell is unlikely to have a significant edge in terms of sheer capital spending. However, the successful commercialization of new products in its research pipeline may create sustainable competitive advantages for the company.
Article continues below advertisement
Wide traction for Honeywell's (HON) recently launched Solstice Low Global Warming Potential. Low GWP refrigerants, Solstice Blowing agents, and propellants in the Fluorine Products unit highlights this strength. Solstice's contracts increased by 38% year-over-year to $3.3 billion. Honeywell Solstice 1234yf, a refrigerant used in the automotive industry (FSAVX), has a GWP of 4, a 99.7% decline compared to the replaced HFC-134a.
Honeywell PMT: Outlook through 2018
Company estimates peg its 2017 sales of specialty chemicals at around $9.9 billion–$10.1 billion, a 3% annual growth over its 2015 figures. The company expects two-thirds of its growth through 2020 to come from emerging markets and especially through what it calls the next-generation BRIC countries. These countries are Poland, Turkey, Mexico, Nigeria, Vietnam, Indonesia, and Malaysia.
The company's margin target for 2018 is 23%–25%, which it expects to achieve from breakthrough strategies it intends to implement, as shown in the above graphic.