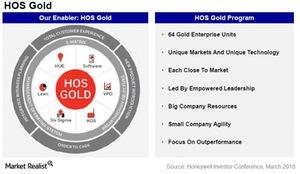 Honeywell Operating System: From 'Honey Hell' to Honeywell
By Shannon Black

Mar. 23 2016, Updated 11:04 a.m. ET
Past inefficiencies
In the early 2000s, Honeywell (HON) was so notoriously inefficient that it was often mockingly referred to as "Honey Hell." Its merger with AlliedSignal was less than successful, and it was stuck with several low-margin, slow-growth businesses.
The company was effectively in limbo for close to eight months in the period after its merger deal, in which General Electric (GE) had edged out United Technologies (UTX) by $2 billion. Several key managers left and divestments in underperforming businesses in the specialty chemicals (VAW) and automotive (FSAVX) end markets were put on hold. The management became focused on closing the sale, which eventually failed to materialize.
Article continues below advertisement
David Cote: Man at the helm
The fact that the press gives company management far greater importance than it seems to deserve is aptly reflected by Warren Buffett's quip from 1988: "With few exceptions, when a manager with a reputation for brilliance tackles a business with a reputation for poor fundamental economics, it is the reputation of the business that remains intact."
However, David Cote, who took over as chairman and CEO of Honeywell, did deserve the accolades he received for turning around the once-troubled conglomerate. Cote helped shape the Honeywell Operating System (or HOS) for production, which integrated several management theories.
These theories include Six Sigma, which has an intense focus on quality; Lean manufacturing, which minimizes waste; and Just in Time, which keeps inventories low. The result has been a remarkable turnaround in its productivity, as well as a growing cash pile that has enabled Honeywell to look out and integrate some high-quality companies.
Understanding the Honeywell Operating System
The Honeywell Operating System has three stages of compliance: Bronze, Silver, and Gold. Much of the Bronze stage was restricted to improving productivity within the four walls of the factory. The Silver stage integrated sales and procurement by working with customers and suppliers to further improve production processes.
The HOS Gold stage, a productivity initiative for the future, is intended to drive growth and agility at the enterprise level. The company anticipates benefits from HOS Gold to start kicking in by 2020.