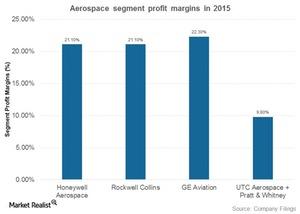 Why Honeywell Aerospace Is a High-Margin Business
By Shannon Black

Mar. 16 2016, Updated 11:05 a.m. ET
Honeywell's aerospace product coverage
In the aerospace market (XAR), Honeywell (HON) provides mechanical and avionics equipment to airplane manufacturers, the space and defense industry, and flight operators. The company sells jet engines and auxiliary power units (or APUs) under its Mechanical Equipment segment, whereas the integrated cockpit, navigation, and safety and radio systems are sold under the Avionics segment.
Article continues below advertisement
Competitive advantage: Customers that stick
Can you imagine aerospace behemoth Boeing (BA) dumping its existing supplier and sourcing its engines for the 787 Dreamliner from an unproven upstart to save a few nickels in operating costs? All it would need is a catastrophic failure at altitude to cause irreparable damage to its brand and reputation.
Airplane manufacturers have worked with equipment makers for years to develop the specifications of its various components. Switching suppliers could set them back substantially as it takes time to understand the products as intimately as the existing supplier. Significant switching costs due to the mission-critical nature of operations would enable OEM manufacturers to have the best margins in the aerospace (PPA) supply chain. In fiscal 2015, Boeing accounted for close to 4.1% of Honeywell's (HON) annual revenues.
Honeywell Aerospace: A comparative analysis
Honeywell (HON) earned revenues of $15.2 billion through its Aerospace (PPA) business, which was 39.5% of its 2015 sales. Aerospace contributed 30.7% of the total sales in 2013 and 38.7% of the total sales in 2014. The business mix of Honeywell and Rockwell Collins (COL) are nearly identical and enjoy margins of 21.1% in the industry.
Both firms have a near-duopoly in the regional jet component market. United Technologies (UTX) underperforms its peers by several percentage points. This is partly attributable to its Pratt & Whitney business, which is reeling from depressed margins due to a shift from its legacy engines to the new GTF (Geared Turbofan) engines. However, even after excluding Pratt & Whitney, the Aerospace business still fetches a lower margin of 13.6% for United Technologies.