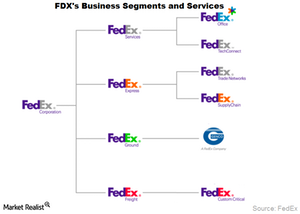 What Is FedEx's Business Model?
FedEx provides a portfolio of transportation, e-commerce, and business services through wholly owned subsidiaries.
FedEx
In the previous article, we saw how FedEx (FDX) grew through multiple acquisitions. Here, we will look at an overview of FDX's business model. FedEx provides a portfolio of transportation, e-commerce, and business services through wholly owned subsidiaries. Headquartered in Memphis, the company employed 325,000 people as of May 31, 2015. In the same year, Fortune ranked the company 12th for the "world's most admired companies" for the 14th consecutive year.
Article continues below advertisement
Article continues below advertisement
Key operating segments
FDX's business is divided into four segments in the form of primary operating companies:
FedEx Express: one of the world's largest express transportation companies
FedEx Ground Package System (or FedEx Ground): a provider of small-package ground delivery services in North America
FedEx Freight: a provider of less-than-truckload (or LTL) services in the US
FedEx Corporate Services (or FedEx Services): a provider of sales, marketing, administrative, and information technology support, communications, and certain back-office support to FDX's other segments.
In addition, the FedEx Services segment provides customers with retail access to FedEx Express and FedEx Ground shipping services through FedEx Office and Print Services (or FedEx Office). The FedEx Services segment also offers customer service, technical support and billing, and collection services through FedEx TechConnect (or FedEx TechConnect).
Now let's understand the key factors that impact FDX's business:
overall customer demand for FDX's multiple services based on macroeconomic factors and the global economy.
volume of transportation services, which is measured by FDX's average daily volume and shipment weight
the mix of services purchased by its customers
the prices derived by FDX for its services measured in yield (revenue per package or pound and revenue per hundredweight and shipment for less-than-truckload freight shipments)
FedEx's ability to control costs to match its shifting volume levels
Investing in ETFs
The transportation sector performance is a prime indicator of economic activity for any nation. Investors who want to invest in US transportation stocks that include airlines (DAL), railroads (CSX), trucking (JBHT), and other logistics companies (UPS) can opt for the First Trust Industrials/Producer Durables AlphaDEX Fund (FXR). Major US airlines and prominent railroads make up 9.8% and 5.2% of FXR.
In the coming part, we'll discuss FDX's biggest segment by revenue, which is FedEx Express.