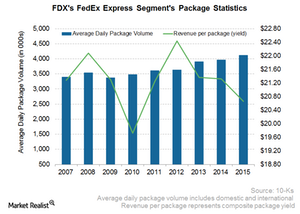 FedEx Express Is One of the Largest Express Networks in the World
FedEx Express contributes 57% of overall revenue
The FedEx Express (FDX) offers a wide range of US domestic and international shipping services for the delivery of packages and freight. It provides reliable and timely delivery to clients in more than 220 countries and territories. The Express segment ships more than four million shipments each business day. FedEx Express's primary sorting facilities are located at the Memphis International Airport. This facility serves as the center of its hub-and-spoke system.
Apart from the Memphis facility, FedEx Express operates regional hubs in Newark, Oakland, Fort Worth, and Greensboro. It has major metropolitan sorting facilities in Los Angeles and Chicago.
This segment owns or has leased 638 facilities for city station operations in the US. FedEx Express leases smaller aircraft to operators. These operators use the aircraft to move FedEx packages to and from airports with FedEx Express's bigger jet aircraft.
Article continues below advertisement
Segment companies
FedEx Express (express transportation)
FedEx Trade Networks (air and ocean freight forwarding and customs brokerage)
FedEx SupplyChain Systems (logistics services)
Bongo (cross-border enablement technology and solutions)
FedEx Express offers three US overnight package delivery services: FedEx First Overnight, FedEx Priority Overnight, and FedEx Standard Overnight. This segment also offers FedEx SameDay service for urgent shipments up to 150 pounds to any location within the US. FedEx Express also provides US express overnight and deferred freight services. These services are backed by money-back guarantees to cater to the needs of the time-sensitive freight market.
FedEx International Priority package services provide time-sensitive delivery within one, two, or three business days worldwide. FedEx Express also offers domestic pickup-and-delivery services within the UK, Canada, China, India, Mexico, Brazil, France, Poland, and South Africa.
Competition and facilities
The express package and freight markets are extremely competitive and sensitive to price and service. Apart from these factors, frequency, capacity, reliability, innovative service offerings, and speed of scheduled service influence the degree of competition FedEx sees from DHL, United Parcel Service (UPS), TNT Express (TNTEY), passenger airlines (DAL), and all-cargo airlines (SAVE).
Among the well-known industrial ETFs, the SPDR S&P Transportation ETF (XTN) has a sizeable 41.0% exposure to airlines. Including railroads and trucking companies, this ETF holds 79% in these transportation stocks. FedEx makes up 2.6% of XTN.
In the next part, we will go through FedEx's next largest segment, FedEx Ground.