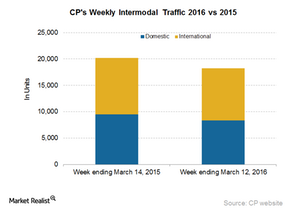 How Fast Did CP's Domestic Intermodal Volume Fall?
By Samuel Prince

Nov. 20 2020, Updated 3:55 p.m. ET
Canadian Pacific's intermodal volume
For the week ended March 12, 2016, Canadian Pacific (CP) reported a nearly 12% fall in domestic intermodal volume to 8,382 units, compared to 9,472 units in the same period of 2015.
This time, even international intermodal volume failed to provide respite to the company. It fell by ~8% as of the week ended March 12, compared to the week ended March 14, 2015. On an overall basis, the company's intermodal fall was in-line with the total falls in US and Canadian intermodal units.
Unlike other Class I railroads, CP doesn't report its intermodal traffic in the same format. Rather, it segregates its intermodal volume into domestic and international segments. Intermodal volume is measured by the number of containers and trailers hauled.
Article continues below advertisement
Why is intermodal transport important to CP?
Domestic intermodal transport formed 11.2% of CP's revenues and 15.8% of its total carloads in 2015. The international intermodal segment contributed ~9% of revenues and 21.3% of carloads in the same year.
Increased truck capacity in CP's short-haul lane will likely result in tough competition in the domestic intermodal space going forward. Since the company squeezes most of its domestic intermodal business from Canada, it will be largely impacted by the growth of the Canadian economy.
The company's international intermodal business consists of containerized traffic moving between the ports of Vancouver, Montréal, and New York. CP's international intermodal growth is tied to the capacity growth at these ports. Along with retail demand, the pace of Trans-Pacific trade with China can affect the international intermodal volumes of carriers such as Canadian National (CNI), Union Pacific (UNP), and BNSF Railway (BRK.A).
Investors opting for pure play in the transportation sector can invest in the First Trust Industrials/Producer Durables AlphaDEX ETF (FXR). This ETF has a 5.4% exposure to railroads and 10.2% exposure to airlines.
In this series, we've analyzed the rail traffic data of all US Class I railroads for the week ended March 12, 2016. For a look at the most immediate previous data, you can read All Aboard: Intermodal Railroad Traffic as of March 5.