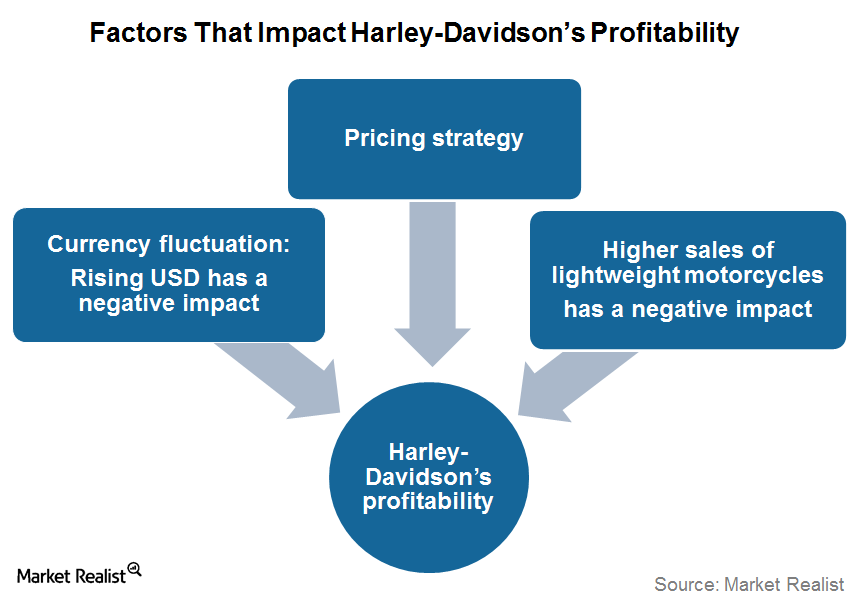 What Factors Could Affect Harley-Davidson's Profitability?
Harley-Davidson's profitability
Previously, we looked at the gross and EBITDA (earnings before interest, taxes, depreciation, and amortization) margins of Harley-Davidson Motor Company (HOG). We also found a positive trend in the company's margins. Now, let's discuss some of the key factors that affect Harley-Davidson's profitability and margins.
Article continues below advertisement
Currency headwinds
As noted earlier in the series, Harley-Davidson manufactures and ships its motorcycles globally. In the past two decades, the company's revenues from international shipments have increased. In 2015, motorcycle shipments outside the US market accounted for 29% of the company's total automotive revenues. Although this can be seen as a positive factor to expand its presence in the international market, this also exposes Harley-Davidson to foreign currency fluctuation risk.
In the last two years, currencies such as the euro, the Brazilian real, and the Japanese yen have depreciated significantly against the US dollar. Last year, currency headwinds stole nearly 4.4% of the company's total revenues and resulted in an unfavorable impact on Harley-Davidson's profitability and margins.
Notably, other US automakers (XLY) including General Motors (GM) and Ford (F) also face the negative impact of the strong US dollar. Likewise, the profitability of Japanese automakers such as Honda (HMC) and Toyota (TM) increases with the weakening Japanese yen.
Article continues below advertisement
Product mix
Product mix plays an important role in determining the profitability of an automaker. Harley-Davidson's high-end touring and cruiser motorcycles typically yield higher margins than street and Sportster models. Therefore, lower proportionate sales of high-end touring and cruiser motorcycles negatively impact Harley-Davidson's profitability.
Pricing strategy
It is important to know that Harley-Davidson is a niche market product manufacturer unlike other motorcycle manufacturers such as Honda and Yamaha. To protect its margins, the company also needs to revisit its pricing strategy from time to time. In recent years, the company has increased the pricing of its motorcycles to maintain margins. However, this also negatively impacts Harley-Davidson's competitiveness in the market, especially in the street bike segment.
Continue to the next article to find out more about Harley-Davidson's current leverage position.