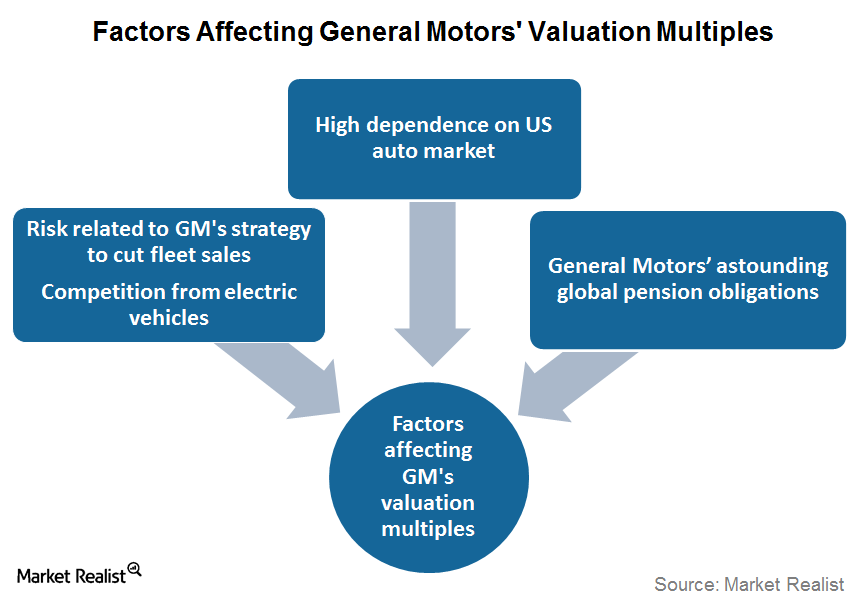 What Factors Could Affect General Motors' Valuation Multiples?
By Jitendra Parashar

Mar. 24 2016, Updated 8:04 p.m. ET
Factors affecting GM's valuation multiples
In this final article of the series, we'll discuss key factors that may affect General Motors' (GM) valuation multiples going forward.
Article continues below advertisement
GM's risk profile
Since GM has a mature business model, its valuation multiples should be more sensitive to its risk profile. In the case of a fairly new company such as Tesla (TSLA), growth can be seen as the major driver of valuation multiples.
As noted earlier in this series, General Motors currently has the highest market share in the US auto market (XLY). However, intensifying competition and fears of economic slowdown in key markets outside of North America have increased the company's risk profile.
Despite being able to capture the largest market share in the Chinese auto market, the company is facing difficulty expanding its revenues in the region. Also, low profit margins in Russia have forced GM to shut down its major operations in the region. This indicates significant risk for the company's international operations.
The company has also been intentionally cutting its fleet sales in the US market to free its plant capacity to manufacture more profitable vehicles for retail sales. So far, this plan has yielded favorable results. However, it also exposes the company to the risk of losing its fleet sales customer base. In the long run, this could prove to be risky.
The risk factors mentioned above have increased General Motors' risk profile significantly. Note that significant increases in an automaker's risk profile may lead to a lower valuation multiple. This could be the reason that GM's valuation multiples are trading lower than those of its peers.
Concerns about US auto demand
The majority of GM's revenues (70% in 2015) come from North America. Considering the cyclical nature of the auto industry, the company's high dependence on the US market alone can also be seen as a big risk.
Fiat Chrysler Automobiles (FCAU) recently mentioned in its 4Q15 earnings report that it considers 2015–2016 to be the peak year for US auto demand. This has boosted debate about whether US auto demand is at its peak. General Motors denied this possibility in its latest earnings report, citing strong fundamental data tracked by the company.
Any signs of weakening auto demand from the United States in the near term may greatly affect US automakers' future earnings estimates. This could lead to lower valuation multiples.
Among all other major automakers, Ford Motor Company (F) and Toyota Motor (TM) also make the majority of their revenues from the US auto market.