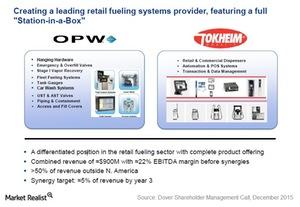 Dover Fluids: A Brief Overview
Retail fueling business
Dover Corporation's (DOV) Fluids business provides pumps and fluid handling solutions for the oil & gas (XOP), chemical, retail fueling, and industrial (XLI) end markets. The company's flagship Ohio Pattern Works (or OPW) business provides end-to-end solutions and enjoys a commanding position in the retail fueling end market.
The OPW business makes gas dispensing componentry and Tockheim, a recently acquired company, provides gas dispensers, which are used at gas stations to pump fuel into vehicles. The fuel does not come from the machine—it is pumped from underground storage tanks through a network of piping and containment systems. OPW provides these piping solutions, as well as the equipment for the storage tanks and nozzles attached to the hose of the dispenser machines.
Article continues below advertisement
Dover's other businesses
Dover Corporation's (DOV) other Fluids businesses include the Pump Solutions Group (or PSG), which provides pumping solutions to several end markets. The Colder Products Company (or CPC) manufactures couplings and connectors for plastic tubings in the pharmaceutical, chemical, and food and beverages market.
Maag is a provider of industrial pumps, filtration systems, and pellet-making solutions. Dover Corporation's (DOV) major competitors in this segment are Danaher Corporation (DHR), Ingersoll-Rand (IR), and Franklin Electric (FELE).
Competitive advantage: Switching costs due to environmental regulations
Gas stations are governed by strict environmental regulations that often differ from state to state. These include standards on flow rate, regular inspection of storage tanks, and passing leak detection results every 30 days. Leaks and spills often result in costly clean-ups and hefty legal penalties, and owners wisely opt for prevention rather than a cure. These factors encourage customers to stick to established players with a proven track record.