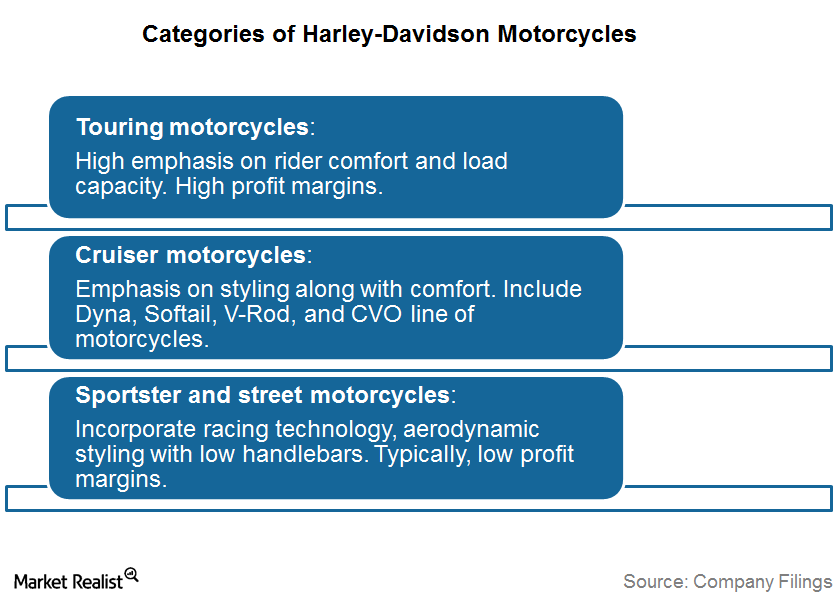 What Are the Broad Categories of Harley-Davidson Motorcycles?
Broad categories of Harley-Davidson
Previously, we explored how Harley-Davidson Financial Services, the financing arm of the company, complements its core business. To understand the company's core strengths, it's also important for investors to know what the company's offerings are. Therefore, in this article, we'll look at the broad categories of Harley-Davidson motorcycles.
Harley-Davidson (HOG) is a well-known global motorcycle brand that currently produces a variety of motorcycle models. These models range from lightweight motorcycles to large heavyweight motorcycles. Harley-Davidson motorbikes' engines range from 494cc to 1802cc. These motorcycles can be divided into three broad categories.
Article continues below advertisement
Harley-Davidson touring motorcycles
Touring motorcycles are heavyweight motorcycles generally with large frames. These motorbikes are manufactured with a high emphasis on rider comfort and load capacity. This type of touring motorcycle also includes features such as saddlebags, fairings, or large luggage compartments. Such features along with large engine capacity make these motorbikes comfortable for long trips. This is the best-selling category of motorbikes for Harley-Davidson.
Harley-Davidson is one of the most popular brands in this segment. Other major companies that sell popular touring motorcycles are BMW, Yamaha, Kawasaki, Ducati, and Honda (HMC).
Currently, some of the notable Harley-Davidson motorcycle models offered in this category are Electra Glide Ultra Classic, Road King, Road Glide, Ultra Limited, and Street Glide. Harley's three-wheeled Trike and Tri Glide Ultra motorcycles also fall under this category.
Harley-Davidson cruiser motorcycles
Cruiser motorcycles are built with an emphasis on styling and comfort. Harley-Davidson's cruiser motorcycles also come with low-end torque. However, engine capacity may vary depending on the bike model. Harley's motorcycles series such as Dyna, Softail, V-Rod, and CVO models falls under this category. Cruiser motorcycles are the second-largest selling category for the company. Harley also allows customization of its cruiser motorcycles.
Sportster and street motorcycles
Sportster is a series of motorcycles produced by Harley-Davidson. These motorbikes incorporate racing technology and aerodynamic styling from low handlebars. This can be understood as the sports category motorbikes of the company. On the other hand, street motorcycles are standard motorcycles that usually come with upright seating for one or two passengers.
It's important to note that street motorcycles such as Street 500 and Street 750 are more popular in emerging markets like Brazil and India. Typically, the profitability of such lightweight motorbikes remains lower as compared to heavyweight (touring and cruiser) motorcycles. Notably, major automakers (XLY) such as General Motors (GM) and Ford (F) also make more profit on heavy vehicles (pickup trucks) as compared to small size cars.
Continue to the next article to find out the key geographical markets for Harley-Davidson Motor Company.