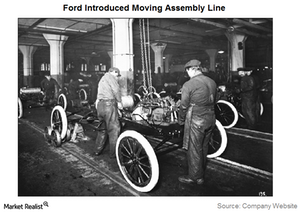 Assembly Line Innovation Helped Ford Outpace the Competition
Assembly line innovation
When Ford Motor Company (F) came into existence, motor vehicle production was a time-consuming task. This was the difficulty in being able to produce a higher volume of vehicles at a low cost.
To tackle this production side limitation, Henry Ford introduced the innovative concept of a moving assembly line in 1913 for the first time in the auto industry. This allowed the company to reduce its per-vehicle production time and costs significantly.
This assembly line innovation allowed Ford to reduce the price of its Model T to $350 from the earlier $850. At the same time, the company was now able to produce a vehicle within 90 minutes, significantly lower than the earlier 12 hours.
Gradually, this manufacturing time reduced further with continued improvements in the assembly line. This further reduced production time and eventually allowed Ford to produce one Model T vehicle every 24 seconds.
Article continues below advertisement
Article continues below advertisement
In 2013, Ford celebrated 100 years of its moving assembly line. Note that other auto industry (VCR) giants such as General Motors (GM), Toyota (TM), and Honda (HMC) were founded years later than the foundation of Ford. That's why initially, Ford remained an undisputed leader in the auto industry for decades.
Global employment by Ford
Being one of the largest automakers, Ford and its consolidated joint ventures in various countries provide employment to nearly 187,000 people globally, according to the 2014 data. North America and Europe combined account for nearly 48% of this employment.
As you can see in the chart above, in past few years, Ford has increased its manpower in the Asia-Pacific region. This was done to maintain pace with the changing global macroeconomic environment and to target emerging markets.
Manufacturing of Ford vehicles
As noted earlier in the series, Ford has a global market share of ~7.2% as of 2015, with 6.6 million vehicle units sold worldwide during the year. To manufacture these vehicles, Ford and its consolidated joint ventures operate 62 manufacturing plants worldwide. Of these 62 manufacturing facilities, 30 are located in North America.
Apart from these manufacturing plants, Ford uses eight regional engineering, research, and development centers. To provide easy financing options to its customers, Ford also provides an auto credit facility, which we'll discuss in the next article of this series.